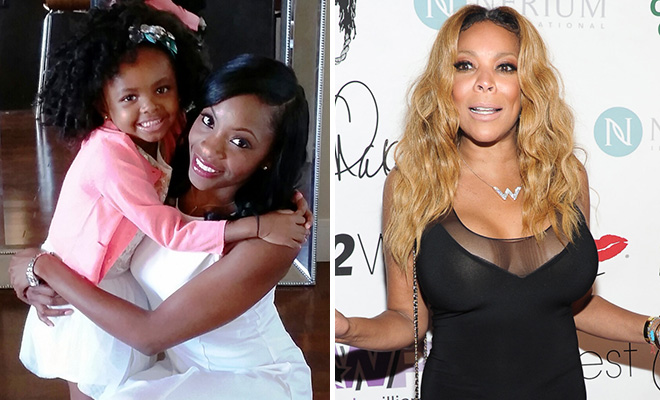 Wendy Williams is as messy as they come, which is not news, but she may have taken her "messiness" a bit too far by expressing her thoughts that Mathew Knowles' 4-year-old daughter would never be as successful as Beyoncé due to how she was conceived.
In addition to Beyoncé and Solange, Mathew Knowles now has not just one, apparently, but TWO other children with TWO separate women!
Earlier this year, it was reported that Mathew's 4-year-old son Nixon and the boy's mother Alexsandra Wright were being forced out of their home because they're struggling financially due to Knowles' "lack of child support."
We already knew about Nixon though, and have known about him for some time. What we didn't know, however, was that Mathew "Raw Doggin" Knowles fathered another 4-year-old child with ANOTHER woman.
A couple weeks back, Mathew's 4-year-old daughter Koi Knowles made her TV debut on "Inside Edition," a little over a month after TMZ broke the news that Mathew was Koi's biological father with a 99.998% certainty, according to a copy of the paternity test.
"You can't deny it once DNA tests come out 99.9% that you are the father," Koi's mother TaQoya Branscomb told Inside Edition. She also revealed that Koi loves to sing and dance, and she hopes that in addition to her father (whom she has never met) one day she will get to meet her big sis Beyoncé.
"They are half sisters and maybe one day down the line that can be made possible … hopefully," she said, though it's interesting to note that TaQoya talked about her daughter meeting Beyoncé and she made no mention of the child's other two siblings Solange and Nixon.
But whatever. Back to Wendy being messy.
On her show last Thursday (Nov 6), Wendy not only questioned why TaQoya would give her daughter the last name "Knowles" if Mathew has never even met her, but she also bashed little Koi's singing abilities and said she'll never be as successful as her big sister because she's the product of an affair Mathew had while he was still married to Beyoncé's mother Tina Knowles.
"If you think that she's going to get a big record deal … that's not going to happen," Wendy said, adding, "I think that Koi Mychael Knowles will be able to perform at the state fair."
TaQyoa has since responded to Wendy's comments about her child, and it sounds like she isn't having not even a little bit of it.
"Wendy is out of line for talking about my child's potential, and how she won't be as famous as Beyoncé when her a** has no idea," TaQoya told Rumor Fix. "She is encouraging bullying and hating just because of Beyoncé's status."
She continued, "Also who's to say if Mathew will or will not be in Koi's life in the future? I'm fighting for my daughter's rights so she won't have to fight for them eighteen years from now … To say that my daughter isn't going to be a successful entertainer because of the way she was conceived is like saying man-looking, former crackheads could never have their own talk show."
LMFAO! Did she just call Wendy Williams a "man-looking, former crackhead?" Yes, she did.
TaQoya also addressed claims that she's an "opportunist" who preyed on Mathew, saying that if she indeed were an opportunist, she would have told the tabloids about Koi "years ago."
"Mathew and I had a romantic relationship in 2009 during a difficult time in his life," the former lingerie model turned real estate agent said in a statement to Madame Noire. "It had nothing to do with Beyoncé's music career. Despite the media speculations, I am not an 'opportunist,' if that was the case I would've spoken out four years ago."
TaQoya said she wasn't even the one who linked the information about Koi to TMZ; it was Houston's Harris County Family Court.
"I was just as shocked as anyone when the information was leaked," she revealed. "I had remained quiet and raised my daughter as a single mother in a happy and healthy environment. Koi has been modeling and acting long before we've been in the media, like any other parent I work hard to nourish and support my daughter's many talents, whatever they may be."
TaQoya added, "I had exhausted all of my efforts to keep this out of the public eye and was forced to rely on the Houston court system to get guideline support. In regards to family visitation, I am always open to her to having relationship with her father and all her extended family members. Whether or not that happens, Koi will be just fine."
TaQoya says she's still working as a real estate agent, and she's currently working on a "vintage lingerie line," due out sometime next year.
As for what Koi is up to, in addition to her modeling and acting career, her mother says "she is in the process of launching her own child lip gloss and haircare line."
Be the first to receive breaking news alerts and more stories like this by subscribing to our mailing list.