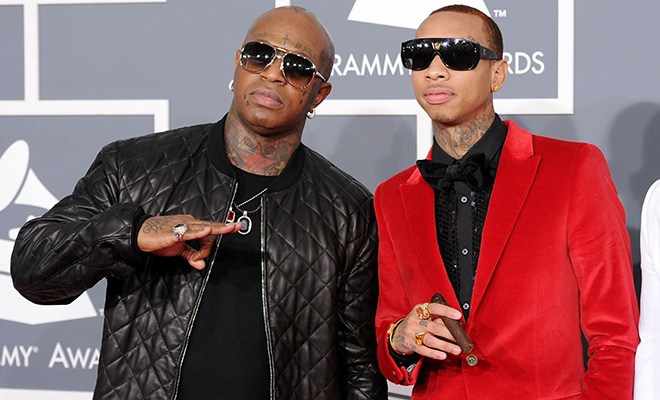 Tyga shook things up majorly within the YMCMB camp when he dissed Drake, Nicki Minaj and the rest of Young Money in an interview with Vibe, in which he revealed that he doesn't get along with his labelmates Nicki Minaj and Drake. "I don't like Drake as a person … He's just fake to me," he said.
Birdman spoke on the beef in a recent interview with XXL and said he doesn't know what's going on, but he could never "say nothing bad about little Tyga."
What about Tyga? What's going on with him?


I don't know man. But I got respect for Tyga. I always had respect for Tyga. We built something together. Another person we took from nothing to something. It will work itself out. It will work itself out. I'm just not with the Internet shit, saying nothing negative. 'Cause I can't say nothing negative about Tyga 'cause I got respect for Tyga. I don't like him saying nothing negative about Drake and Nicki. To me, that shit ain't cool to me. 'Cause they never did no wrong to him. You understand me?

But, he still the little homie and I do anything in the world for him. Nicki and Drake, that's the family. Whatever side you choose, it is what it is. But I ride with the team. I could say nothing bad about little Tyga. He's always been a man to me. A young man to me. A young man to the team. This shit coming out of left field to me. I don't understand it, but it is what it is.
The YMCMB head honcho expounded a bit further in a subsequent interview with Hot 97's Funkmaster Flex and admitted that Tyga's tweets caught him by surprise. "I didn't see that coming. And I still I haven't got to the bottom of none of that," he said.
Birdman also defended Drake while putting Tyga right in check. "Drake is Drake. There's really no comparison. He in a lane all by himself when it comes to making music. You can't compare nobody to what he do 'cause nobody does what he does," he said.
"Tyga know where he stands in this game compared to Drake," he added. "That ain't no secret. Numbers don't lie. He might be in his feelings, and I got all the love and respect for Tyga. That's been like my little bro."
Birdman also in but so many words gave "little Tyga" the Beanie Sigel State Property treatment, basically telling him to "get down or lay down."
"I'm family orientated. Either you're in or you're out," the Cash Money CEO said. "If you're out, you're an outcast to me. If you're in, we family. To me, it ain't no on or off switch. Either you with us or you ain't. You gotta choose your side, but I got nothing but respect for Tyga."
h/t: Smoking Section, Rap-Up
Be the first to receive breaking news alerts and more stories like this by subscribing to our mailing list.