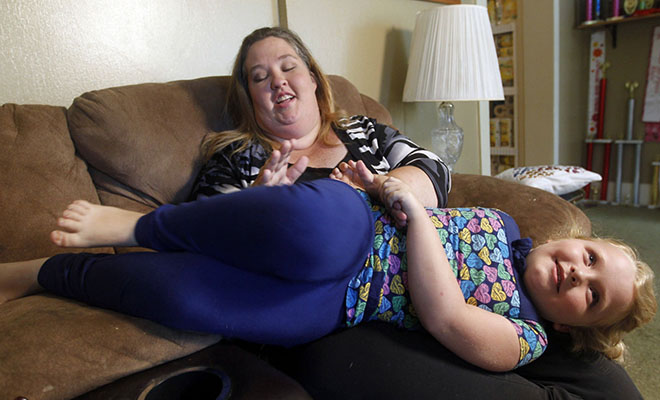 If you're following the terribly disturbing news surrounding Honey Boo Boo and her family, brace yourself for news that is sure to make anyone with a fully functional brain cringe.
Mama June Shannon is not only dating a convicted sex offender (who was sent to prison for 10 years for molesting her daughter Anna when she was 8) — as confirmed by these pictures of them "house hunting" together in Georgia — but she's also apparently letting Alana aka Honey Boo hang out with the guy.
Yes, you read that right. MAMA JUNE … IS LETTING HER CHILD MOLESTER BOYFRIEND … "HANG OUT" … WITH HER 9-YEAR-OLD DAUGHTER.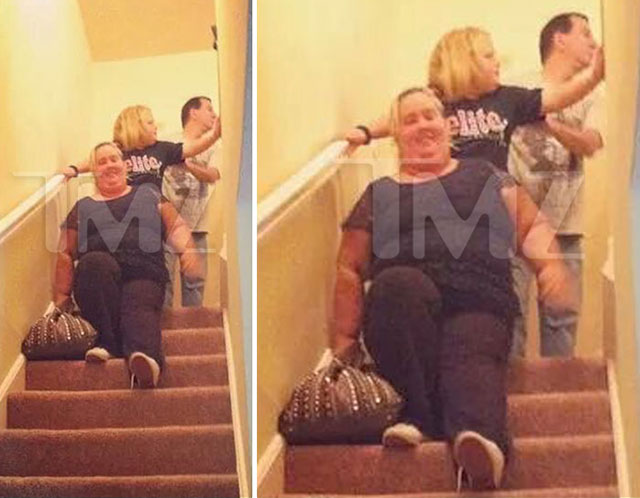 This is according to TMZ, who, once again, has provided us with undeniable picture proof.
Mama June has not only been lying … she's been exposing her young daughter to a child molester.

Take a look at this pic — taken last month. A smiling June sits on a staircase as her 9-year-old daughter, Honey Boo Boo, is touched gently by the hands of a man who forced oral sex on another one of June's children … who was a year younger than Honey Boo Boo when she was violated.
The news is VERY disturbing to say the least, but that's not even all of it.
TMZ also has a photo of Mama June at a car dealership allegedly buying her child molester boyfriend Mark McDaniel a used car.
June plunked down around $25,000 CASH at a car dealership in Macon, GA for 2 used Nissan Altimas … an '07 and an '09. The pic shows a smiling June with her hand near the receipt.

We're told she bought the older car for someone in her family … and the '09 for "a friend."

But we found out … the friend's car was delivered to a home in Decatur, GA which McDaniel listed on his sex offender registration.
Anna Cardwell — June's oldest daughter (whom was abused by McDaniel) — originally defended her mother and denied reports that she was dating her child molester ex-boyfriend.
But since the release of the "house hunting" photos, the story about the car purchase, and now the photos of Honey Boo Boo being exposed to him, Cardwell — who is now married and the mother of a 2-year-old daughter — has recanted her statements.
"I believe she is seeing him and hanging around him," Anna, a stay-at-home mom, told Radar Online. "I'm hurt … I think me and Mama's relationship may well be over."
Mama June is a terrible, TERRIBLE person and Sugar Bear (Alana's father) should take his child from her because she obviously doesn't understand what the word "parent" means, not just as a noun, but as a verb.
Be the first to receive breaking news alerts and more stories like this by subscribing to our mailing list.