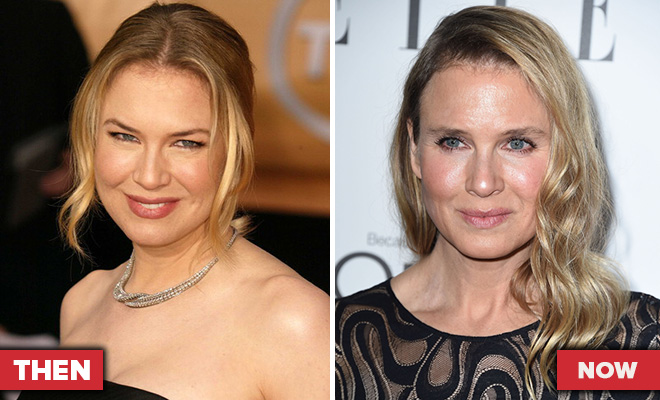 Renée Zellweger made an appearance at the 2014 ELLE Women In Hollywood Awards Monday night (Oct 20) showing off a drastically different look, which dropped jaws and raised eyebrows all over the Internet.
In a sly post titled, "Here Are Some Pictures of Renée Zellweger," Gawker shared a series of photos from the event, along with photos from the past, and a note that read: "Since a few people are asking, allow us to be explicit: These are 100 percent photos of Renée Zellweger (the one you are thinking of—the famous actress), from Getty photos, correctly identified as Renée Zellweger. Other than that, there is nothing remarkable about them."
Movie Pilot said that the 45-year-old actress "looks totally different" and is "virtually unrecognizable."
Hollywood Life spoke with a plastic surgeon, who said: "It looks to me as though Renee had a brow lift, eyelid lift, and a facelift. The brow lift has raised her forehead too high and it looks like she may have even had hair transplants to bring her hairline down again because of the appearance of hairs at the hairline. The cheeks were made thinner with the facelift. The eye lift has given her a more sunken look than she normally had skin and fat were removed. The eyebrows are going straight across instead of normally arching which also gives her eyes an unusual look. This could be related to the brow lift and Botox."
Is it that she's just aged a bit? Or is it plastic surgery? We really don't know, and Renée isn't saying specifically, but she did address the situation with People and told them that the debate around her appearance is "silly."
The Oscar winner says she looks different because she's "healthier and happier than ever," and she has no problem with people taking notice that she's going through changes.
"I'm glad folks think I look different! I'm living a different, happy, more fulfilling life, and I'm thrilled that perhaps it shows," Zellweger, 45, says of the attention she received after an appearance at the Elle Women in Hollywood Awards in Beverly Hills on Monday.

Calling the conversation about her appearance "silly," she says she is choosing to address it because "it seems the folks who come digging around for some nefarious truth which doesn't exist won't get off my porch until I answer the door."

"My friends say that I look peaceful. I am healthy," Zellweger continues. "For a long time I wasn't doing such a good job with that. I took on a schedule that is not realistically sustainable and didn't allow for taking care of myself. Rather than stopping to recalibrate, I kept running until I was depleted and made bad choices about how to conceal the exhaustion. I was aware of the chaos and finally chose different things."

And if some people don't recognize the new Renée Zellweger, one thing they should understand is she's comfortable in her own skin.

"People don't know me in my 40s," says Zellweger, who prefers to lead a quiet life with Bramhall and a close circle of friends. Recently, she pitched in to help her pal and longtime publicist, Nanci Ryder, who is battling ALS, at the ALS Association Golden West Chapter's annual Walk to Defeat ALS in Los Angeles.

"People don't know me [as] healthy for a while," says Zellweger. "Perhaps I look different. Who doesn't as they get older?! Ha. But I am different. I'm happy."
Be the first to receive breaking news alerts and more stories like this by subscribing to our mailing list.