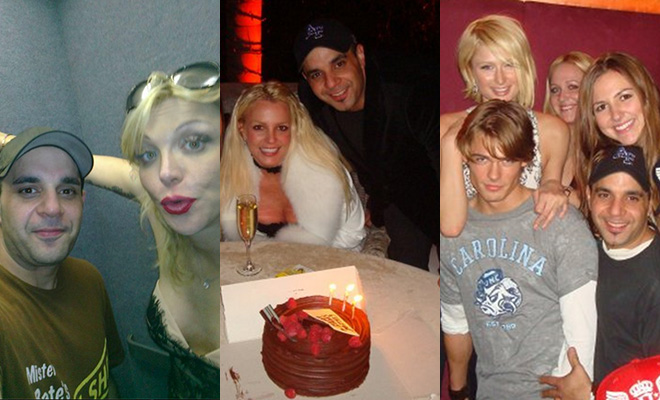 Sam Lutfi, the man who tormented managed Britney Spears for many moons, recently came under fire after it was revealed that he helped Amanda Bynes' parents trick her into checking into a psych ward, and now he's trying to clear his name, saying that he's not "shady" and he's just "trying to help" the poor Hollywood starlet.
For the past few years, whenever you've heard about a celebrity's train coming off the tracks, Sam Lutfi's name has somehow found itself in the mix.
He was Britney Spears' right-hand man for years (before her father fired him after successfully gaining conservatorship over his business affairs and finances), and many people attribute Lutfi for her downfall.
Lutfi has also tried to wedge himself into the inner circles of socialites such as Lindsay Lohan, Paris Jackson and Courtney Love when they were at their lowest, which has (understandably) given us all the impression that this guy is a "shady" character.
Those close to the celebrities he targets seem to believe Lutfi's intentions aren't good, and he's only looking to take financial advantage of celebs who are struggling mentally.
In an open letter titled "I'm Sam Lutfi, and I'm Trying to Help Amanda Bynes," published on the blog xoJane, Lutfi himself admits that he's often described in the media a a "shady" "svengali," but he says those descriptions about him are "absolutely dead wrong" and you should not "believe everything you read."
So with that "don't believe everything you read" thing in mind, take a look at Mr. Lutfi's full letter here (emphasis ours):
Don't believe everything you read.

I've worked in Hollywood for a long time, and over the years these experiences have led me to see what happens when too much fame and too much money can sometimes get the best of celebrities. I am a problem solver, and I care about helping people get out of what may seem like some of their more difficult places in life. Which is why you have seen me associated with some of the more famous celebrities when they are in their most trying hours: Britney Spears, Courtney Love and now Amanda Bynes.

Also intertwined with all of these women is a lot of media scrutiny and much wrangling over money, control and influence. So it makes sense that my name has been dragged through the mud more times than I can count. People fight dirty in Hollywood. They do what they need to do to come out on top and to claim the seat next to the most powerful.

This has never been my M.O. I am a person who loves a good comeback story. I consider myself somewhat of a comeback, and I am also not afraid to get dirty in the process. If I need to be slandered in order to help other people get better — or to help their reputations get better — I have absolutely no problem with that.

It's never been about me. It's been about them.

Courtney asked me to write this in order to help stop some of the misinformation campaigns that have been nonstop over the last few weeks as Bynes has been more in the spotlight than ever. All I can tell you is that Amanda is getting the help that she needs and that I am working closely with her and her family in order to ensure that we can move on from the tabloid sensationalism of her "breakdown" and instead concentrate on what a rare, talented young woman she has always been and continues to be.

Amanda is a beautiful, amazing and very strong woman who has been through a lot. So are Courtney and Britney. Like me, they are also survivors.
Also, an open letter full of self promotion isn't complete without a few social media screenshots for illustrative purposes only. So here they are: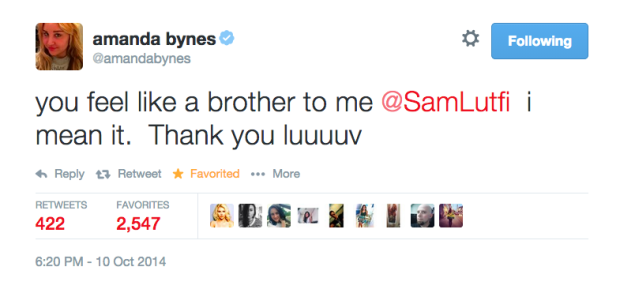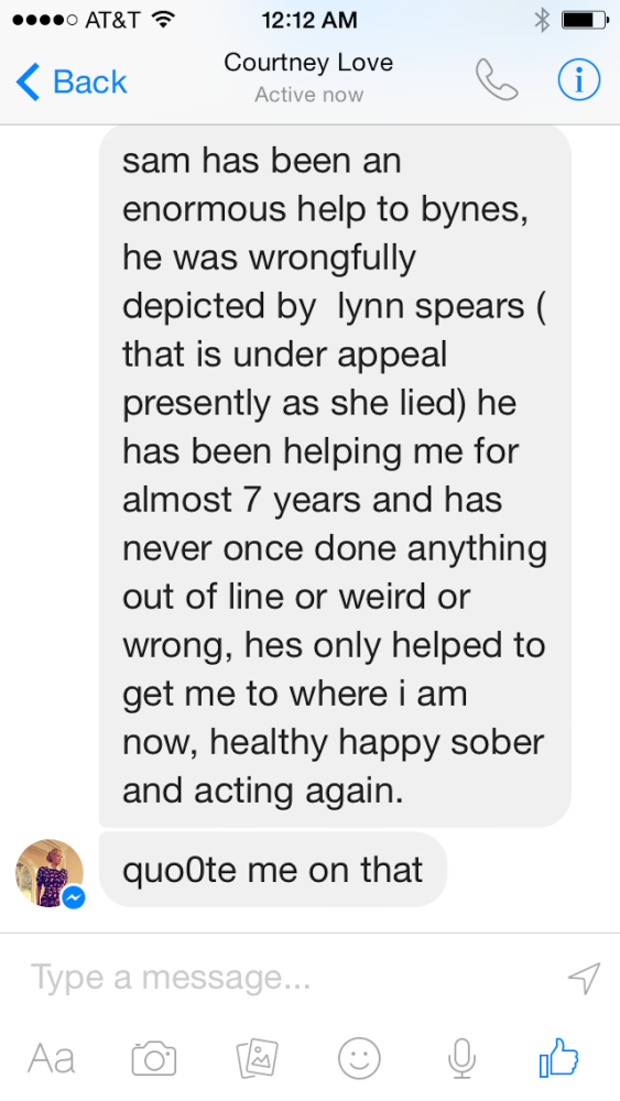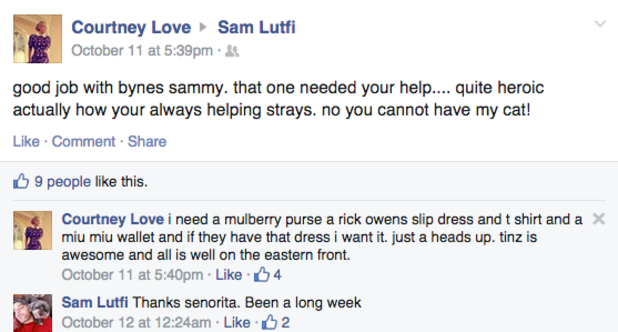 If Courtney Love is your biggest cheerleader, it might be time to evaluate your life choices.
Again: DON'T. BELIEVE. EVERYTHING. YOU. READ.
Meanwhile, Amanda Bynes will be under 24/7 psychiatric evaluation for another week after her involuntary 5150 hold was extended for an additional 14 days last Monday (Oct 13).
Be the first to receive breaking news alerts and more stories like this by subscribing to our mailing list.