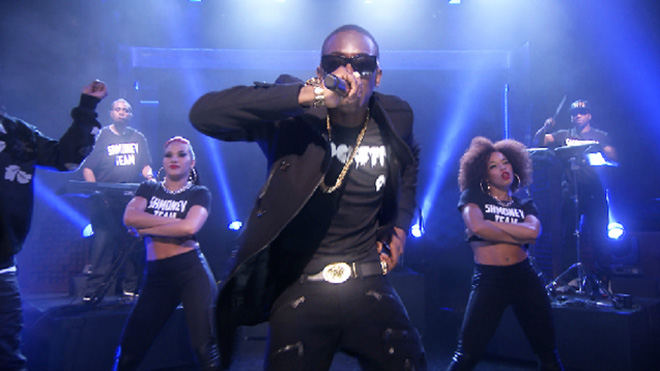 Bobby Shmurda is riding so high off the success of his debut single "Hot N*gga," we sincerely hope he doesn't have a fear of heights … because it doesn't look like he'll be coming down anytime soon.
Not even six months after signing a major deal with Epic Records, the Brooklynite — who single-handedly made it socially acceptable for grown men to sway their hips from side to side to a hot beat — has already done something most rappers only get to dream about: performing on "The Tonight Show," the most popular late night show on TV!
Shmurda, along with his BFF Rowdy Rebel and the rest of his GS9 crew members, made his late night debut on "The Tonight Show with Jimmy Fallon" Friday (Oct 10) and performed "Hot Boy" (the censored version of "Hot N*gga," obvs) for a crowd of people who were probably hearing the song for the first time that night. But who cares? N*GGA WE MADE IT!
Watch Bobby Shmurda perform "Hot N*gga Boy" on Jimmy Fallon's "Tonight Show" above!
Be the first to receive breaking news alerts and more stories like this by subscribing to our mailing list.