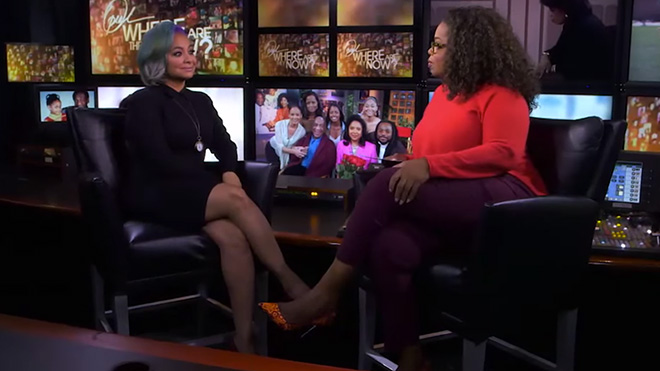 Raven-Symoné has officially come out of the closet.
The 28 year-old actress finally opened up about being gay in an exclusive interview on Oprah's "Where Are They Now?" show.
In the interview, Raven revealed that she's in a happy relationship with her partner — who is a woman, obviously — and she also makes it clear that though she is "proud to be who I am and what I am" she doesn't want to be labeled neither "gay" or "African-American."
Raven also admitted to being attracted to girls and boys since the age of 12.
Check out video above and excerpts from the interview below:
I'm in an amazing relationship with my partner — a woman — and on the other side, my mother, and people in my family have taught me to keep my personal life to myself as much as possible so I try my best to hold the fence where I can. But I am proud to be who I am and what I am.

In that topic of dating and love, I knew when I was 12. I was looking at everything (boys and girls). I don't need language, I don't need a categorized statement for it. I don't want to be labeled 'gay'. I want to be labeled a human who loves humans.

I'm tired of being labeled. I'm an American! I'm not an African-American. I'm an American.

Oprah: Oh Lord Girl! Don't set this Twitter on fire. What did you just say??? [jokes] Stop the tape rape now!

I will say this: I don't know where my roots go to. I don't know how far back they go. I can't go on…ya know… I don't know how far back and I don't know what country in Africa I'm from. But I do know my roots are in Louisiana. I'm an American. And that's a colorless person because we are all people.

I have lots of things running through my veins. I don't label myself. What I mean by that is I'm An American. I have darker skin. I have a nice interesting grade of hair. I connect with Caucasian, I connect with Asian, I connect with Black, I connect with Indian. I connect with each culture. Aren't we all [a melting pot in one body]? Isn't that what America is suppose to be? That's what it's suppose to be. I personally feel that way.
h/t: Necole Bitchie
Be the first to receive breaking news alerts and more stories like this by subscribing to our mailing list.