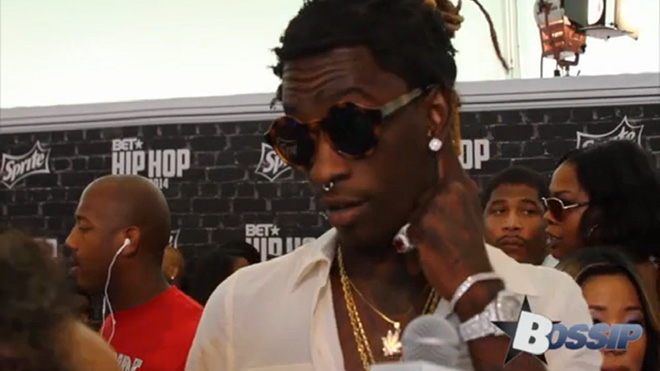 Bossip got a chance to catch up with ATL rap weirdo Young Thug this past weekend at the 2014 BET Hip Hop Awards, and during a quick red carpet interview, Thug was questioned about everything from calling his homies "hubby," "bae," and "lover" to whether-or-not he has beef with fellow rap newcomer Kevin Gates.
Thug's answers to the questions really don't reveal much and just further proved that this guy has no care in the world. Either that or he does a lot of drugs and has lost a lot of brain cells in the process. The guy doesn't even believe artists should speak out on social issues. SMH!
This is how the "interview" went:
What do you mean when you call your homies your hubby or lover?

"It's a language. It's nothing stupid and fruity going on. It's the way we talk, it's the way we live. Those are my baes, those are my lovers, my hubbies, whatever you want to call them."

Is it strategic at all to get people talking about you or be controversial?

"I don't know a yes or no to that. That's a hard question."

Do you have any issues with Kevin Gates and will there be a problem today if you see him?

"That wasn't against him. I don't know why everybody thinks that."

Do you think the media blows things out of proportion on social media?

"No, I don't think so."

They're a doing a special on Mike Brown and the Ferguson situation. What do think needs to be changed in the way black men are policed in America?

"Leave that up with the critics and the laws and all that other sh*t. We having fun, we iced out, we having money. That's how we doing it."

So you feel like it's not the artist's place to speak on social issues?

"No."
Wow… Young Thug is so profound and eloquent isn't he?
via: Bossip
Be the first to receive breaking news alerts and more stories like this by subscribing to our mailing list.