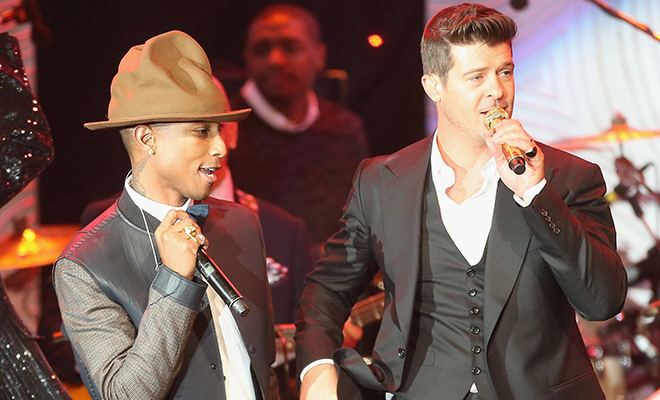 If Robin Thicke has ever had a hood pass, it should be officially been revoked.
Not only is the guy a lousy husband, but he's also a snitch and a drug addict. And did we forget to mention an alcoholic too?
We've been fans of Robin for a long time now, however this past year this guy has countlessly made a fool of himself.
If you haven't heard yet, Robin is being sued by Marvin Gaye's family over his "Blurred Lines" hit single for allegedly ripping off Gaye's own 1977 hit "Got to Give It Up."
During his recent court deposition, Robin admitted to being addicted to Vicodin and booze, and being too "messed up" to be a part of the writing process for the song, basically throwing producer/writer Pharrell Williams all up under the bus.
Q: Were you present during the creation of 'Blurred Lines'?

Thicke: I was present. Obviously, I sang it. I had to be there.

Q: When the rhythm track was being created, were you there with Pharrell?

Thicke: To be honest, that's the only part where — I was high on Vicodin and alcohol when I showed up at the studio. So my recollection is when we made the song, I thought I wanted — I — I wanted to be more involved than I actually was by the time, nine months later, it became a huge hit and I wanted credit. So I started kind of convincing myself that I was a little more part of it than I was and I — because I didn't want him — I wanted some credit for this big hit. But the reality is, is that Pharrell had the beat and he wrote almost every single part of the song.
Robin also revealed that he was high on Vicodin and alcohol during every interview he did last year.
"With all due respect, I was high and drunk every time I did an interview last year. Every day, I woke up, I would take a Vicodin to start the day and then I would fill up a water bottle with vodka and drink it before and during my interviews."
He also claims to have been sober for the past 2 months and hints that his drug/alcohol problem ended his marriage with Paula Patton.
"I've been sober for the last 2 months … When your wife leaves you, it gives you good reason to sober up."
It's all starting to make sense now… SMDH.
h/t: Hollywood Reporter
Be the first to receive breaking news alerts and more stories like this by subscribing to our mailing list.