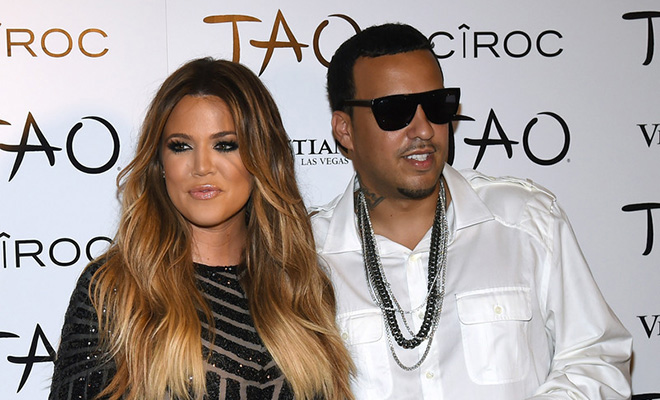 Khloe Kardashian and French Montana are reportedly no longer a couple after eight months of dating.
According to TMZ, Khloe broke things off with the "Pop That" rapper because she hasn't fully recovered from her breakup with Lamar Odom and can't emotionally handle a relationship right now.
Sources close to Khloe say she felt things between her and French were getting too serious and happening way too fast.
Another source told US Weekly, French was too needy and had become too dependent on Khloe.
"They are on a break," one source tells Us. "The relationship got too heavy and Khloe needed to take a step back." Another insider says the Moroccan-born musician, 29, was too "needy" for the reality star, 30. "It grated on her that he became so dependent on her," the pal tells Us. It didn't help, of course, that her family never really warmed to her beau.

Kardashian matriarch Kris Jenner "did not approve and told Khloe all the time," the first insider says. And she wasn't the only one with reservations; a friend previously told Us that sister Kim Kardashian-West and stepdad Bruce Jenner were "very skeptical" of the rapper and worried he was using her for fame.
Regardless of what caused the "break," Khloe and French plan on remaining friends and still hanging out. "She just wants time apart from him," said one of Us Weekly's sources.
Meanwhile, sources are basically telling E! Online the same thing: French is "needy" and he refuses to accept that things are over between him and Khloe.
The insider tells us that Khloé officially broke things off with French, who is having trouble with the split and "won't really accept it." The source adds that Khloé grew weary of his "needy, obsessive" behavior and she slowly began distancing herself.

The exes are still in contact and French, 29, is trying to save their romance, "but eventually they will be totally broken up," the source adds. "For all intents and purposes, Khloé is single again."

Despite splitting up romantically, the insider adds, "Khloé thinks he's a great guy but it just wasn't working out."
Meh. We really didn't think this "thing" between Khloe and French would last too long anyhow.
Be the first to receive breaking news alerts and more stories like this by subscribing to our mailing list.