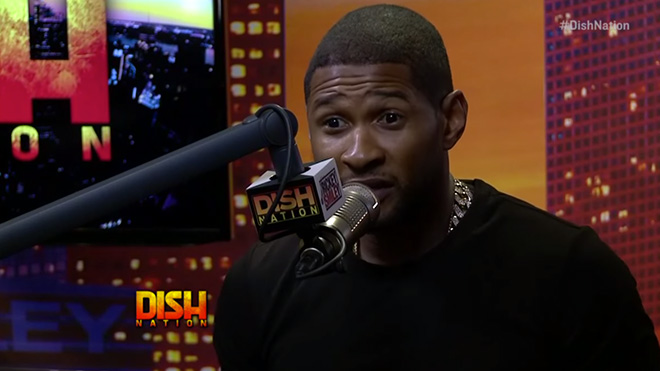 Usher recently did a radio interview with Dish Nation and spoke on a number of juicy topics.
The "Good Kisser" singer gave his opinion on his ex-wife Tameka Raymond's new show "Atlanta Exes" and her keeping his last name. Usher also talked about smacking Nicki Minaj's a** at the VMAs and more.
Below are some excerpts from the short interview, which you can watch above.
On his new U.S. tour "The UR Experience."

"20 years of doing this as an artist. It will be an experience like you've never had before."

On smacking Nicki Minaj's a** at the VMA's:

"I had to give her a signal that we were done bumping. She knew it was a kind a** smack."

On not returning to "The Voice" next season:

"Right now it's true. I did two seasons, it wasn't intended to be a forever deal."

On his ex-wife Tameka Raymond's new show "Atlanta Exes"

"I have no feeling about it whatsoever. Actually i haven't even seen it. I've been busy raising kids, making records and videos."

On Tameka keeping his last name:

"She married me. I'm going to marry again… (you know) and when I do, I don't want to have a harem. I just hope it will be a departure."

On what makes a woman a good kisser:

"The wetter, the better."

On who he would smash, marry or taze between Chilli, Nicki Minaj and Rihanna:

"I'm not tazin' none of those! I would definitely smash … but i already did Chilli. I'm just sayin…"