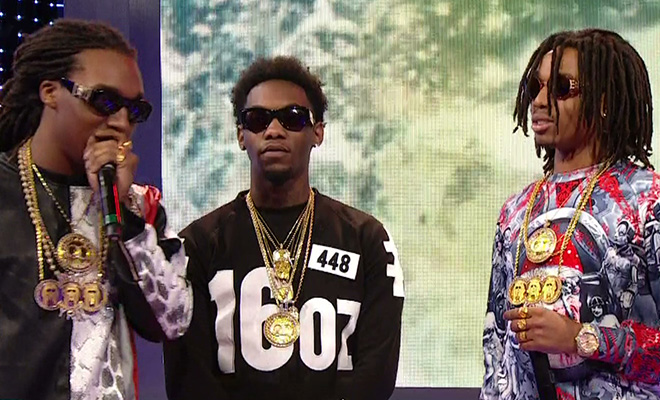 Apparently, the Migos don't play when it comes to their bling!
During their show last Saturday night (Aug 30) at Limelight nightclub in Nashville, the "Fight Night" rappers got into a massive brawl after a fan in the crowd snatched one of their chains.
According to TMZ, the fight erupted after one of the Migos (it isn't known exactly who) jumped into the crowd to regain his chain … and things (obviously) got out of control from there.
Someone called the cops, but club security was able to get everything under control and no one was arrested.
Footage of the brawl has been uploaded to YouTube, and our homies from The Smoking Section are offering the best advice to avoid situations like this in the future:
Whatever You Do, Don't Ever Try To Snatch A Chain From Migos (@MigosATL) http://t.co/f6yaLqFv5f pic.twitter.com/H19p4uMx5N

— The Smoking Section (@TSSCrew) September 2, 2014
No one knows whether the gentleman in this picture was the chain snatcher, or if he just ended up being in the wrong place at the wrong time, but the advice above should hold true regardless.
Be the first to receive breaking news alerts and more stories like this by subscribing to our mailing list.