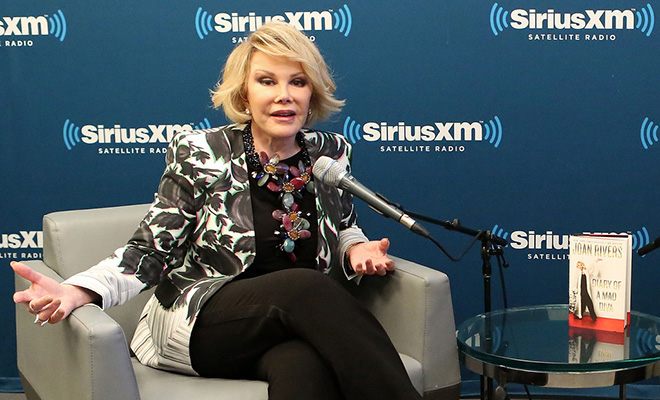 Joan Rivers is said to be "resting comfortably" in a New York hospital after suffering cardiac and respiratory arrest during a surgical procedure at a medical clinic Thursday (Aug 28). TMZ first reported that Rivers was rushed by ambulance to Mount Sinai hospital in critical condition after she "stopped breathing" during an operation on her vocal chords.
According to TMZ, Joan's heart "stopped beating" at some point during the procedure, although that detail has yet to be confirmed by other sources.
Meanwhile, E! — who is in direct contact with Rivers and her people, thanks to the comedienne's relationship with the network — notes that that she only stopped breathing during the surgery.
Joan's daughter Melissa Rivers issued a statement late Thursday night. "I want to thank everyone for the overwhelming love and support for my mother," she said. "She is resting comfortably and is with our family. We ask that you continue to keep her in your thoughts and prayers."
Melissa released a second statement Friday, noting that her mother's condition "remains serious."
"My mother would be so touched by the tributes and prayers that we have received from around the world," she said. "Her condition remains serious but she is receiving the best treatment and care possible. We ask that you continue to keep her in your thoughts as we pray for her recovery."
Rivers had been scheduled to do a comedy show at the Count Basie Theater in Red Bank, New Jersey tonight.
Michael Lucas, who attended Rivers' show at New York's Beechman Theater Wednesday night, told CNN that she joked about death.
"She said, 'You know I'm 81 years old, and I could drop dead at any moment and you would be so lucky because you will have a story to tell your friends for the rest of your life,'" Lucas said. "Then she mimicked people talking about what it was like to see her drop dead on stage."
He added, "There was no sign (Wednesday) night that she was declining. Her show was over an hour long and she never stumbled or even paused to catch her breath."
Be the first to receive breaking news alerts and more stories like this by subscribing to our mailing list.