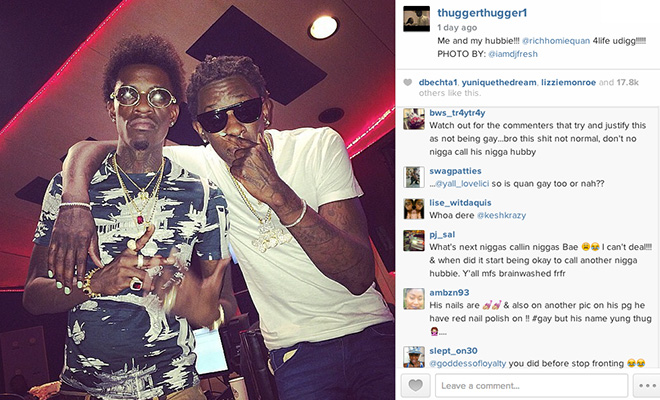 Rumors have been swirling for months that Young Thug is Hip Hop's first openly gay trap rapper, thanks to his painted fingernails, overly effeminate attire and his penchant for calling close male friends his "babes" and "lovers."
Earlier this week, the Atlanta rap weirdo did nothing to help his situation by Instagramming a photo of himself and fellow ATL rapper Rich Homie Quan in which he referred to Quan as his "hubbie." (Not to mention those neon painted fingernails. HEY GIRL!)
Of course Twitter lit up with responses and questions surrounding Thugger's sexuality have returned with a vengeance:
"@DjFinessin: Quan- "Thugga Thugga That's My Brudda Brudda" Young Thug- "That's My Hubbie!!"" Me: pic.twitter.com/PSMZHGMRA8

— ?? King Frost ?? (@SwaggyFrost12) August 26, 2014
Aight enough's enough! When r we gonna jus call a spade a spade.. Young Thug called Rich Homie Quan his "Hubbie".. Smdh #PayAttentionPpl

— Eric Wright (@EWrighteous21) August 26, 2014
Young Thug gay af pic.twitter.com/mEIE5BCWY6

— BIRTHDAY BOY!!! (@KingRyin) August 26, 2014
young thug been gay. quit acting shocked.

— BEEZUS (@bugattibeez) August 26, 2014
Young Thug gay Af for calling Rich Homie his hubbie . 1 of yall thugger fans explain this for him ..

— SluttyBoy Ziggy (@HoesAndTacos) August 26, 2014
When Yo Friend Don't Believe Young Thug Gay & U Show Him Some Suspect Bars https://t.co/cvApA4KBEA

— Franco (@FrancisJstn) August 22, 2014
"Well I'm just saying I think it's pretty immature of you guys to not like Young Thug just because he's gay" pic.twitter.com/51J5OFCbxG

— 6'5 JayDub (@Lurk_God) August 15, 2014
YOUNG THUG & RICH HOMIE QUAN BETTER SAY NO HOMO IN THE NEXT 24 HRS OR THEY BOTH GAY

— wadeway??hsd?:? 1017 (@BennettJoeSmith) August 26, 2014
Charlamagne Tha God, DJ Envy and Angela Yee discussed the situation on the "Breakfast Club" yesterday and asked their listening audience if they thought it was acceptable for "straight" men to call other "straight" men bae or hubbie.
So the question remains … do YOU think it's acceptable for "straight" men to call their best friends "bae" or "hubbie?"
Be the first to receive breaking news alerts and more stories like this by subscribing to our mailing list.