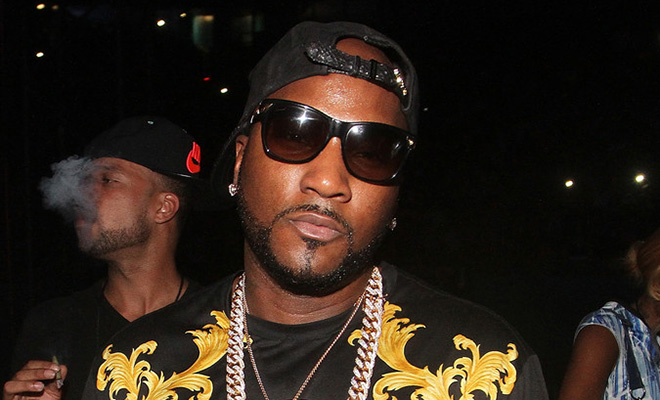 After being arrested Sunday (Aug 24) following the discovery of an AK-47 assault rifle on his tour bus, rapper Young Jeezy has pleaded not guilty to illegal gun charges in Irvine, California.
Jeezy and five members of his entourage were charged with felony possession of an assault weapon after they were all arrested outside the Verizon Wireless Amphitheatre ahead of a concert with Wiz Khalifa.
Young Jeezy Arrested After Cops Find AK-47 Possibly Linked to Murder on Tour Bus
The AK-47 was found by police executing a search warrant as part of the investigation into the murder of 38-year-old Eric Johnson, who was fatally shot multiple times Friday night (Aug 22) backstage at the concert at the Shoreline Amphitheatre in Mountain View.
Johnson, also known as Black E and Swoop, owned a record label called Full Pull Entertainment and had planned a public afterparty featuring Jeezy at a nightclub called Studio 8 in San Jose, Billboard.com reported.
The shooting forced the tour's promoter Live Nation to cancel the show scheduled for the following Saturday night in Chula Vista.
According to San Jose Mercury News, Jeezy and the five others who were arrested with him — Kena Marshall, Peter Maynard, David Kuniansky-Altman, William Gilmore and Alexa Beason — entered their not guilty please in Superior Court in Newport Beach, and their next appearances in court will be a pretrial hearing scheduled for September 5th.
Though weapons charges have been filed, no one has been arrested for Johnson's murder and authorities said none of those charged are being called suspects.
Bond for each of the six defendants, who were booked and held at the Orange County Central Jail Complex in Santa Ana, was set at $1 million.
Jeezy reportedly bailed everyone out of jail today, and they'll be released sometime tonight, Steve Carless, President of the rapper's CTE label and A&R at Atlantic Records said. "A full statement is coming soon," he added.
Despite his incarceration, Jeezy's Twitter account remains active and is promoting the rapper's upcoming album Seen It All: The Autobiography, due out next Tuesday (Sep 2).
Stream #SeenItAll now on @iTunes Radio! http://t.co/w9bArhnCmO pic.twitter.com/xEF5jT2El0

— SnowGo (@YoungJeezy) August 26, 2014
5 days #SeenItAll http://t.co/Ncg3arXGDz pic.twitter.com/VJfTjkM4KR

— SnowGo (@YoungJeezy) August 29, 2014
Be the first to receive breaking news alerts and more stories like this by subscribing to our mailing list.