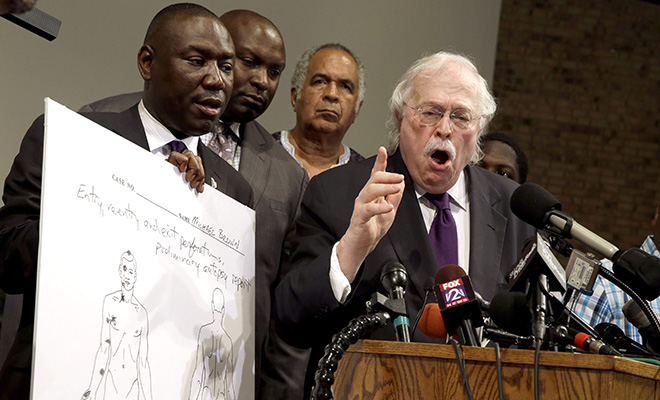 Darren Wilson, the police officer who shot and killed Michael Brown should be arrested for his crime … so says the family of the unarmed teenager who was gunned down in Ferguson, Missouri earlier this month.
Benjamin Crump, an attorney for Brown's family, held a press conference Monday morning (Aug 18) after a private autopsy requested by the family showed the 18-year-old was shot at least six times in the head, torso and arm.
Crump and his team of attorneys said that the autopsy report was consistent with eyewitness accounts that Brown was trying to surrender, and the brutal nature of the shooting (he was shot in the face more than once) should have led to the officer's immediate arrest.
Dr. Michael Baden, the medical examiner who conducted the family's private autopsy (pictured above at the podium beside Crump), said that the two shots that hit Brown in head entered from the top and exited out the front; one went through his forehead and the other went through his eye.
Dr. Baden noted that all but the last shot to Brown's head would have been survivable.
"It shows a back-to-front [trajectory] for both of those, and it supports what the witnesses said about him trying to surrender to the officer," attorney Daryl Parks said. "His head was in a downward position. Had to be, for what had happened. Those types of facts are clear. And we believe that given those kinds of facts, this officer should have been arrested."
"It verifies the worst that the family thinks happened — that he was executed," said Crump. "It confirms what the witnesses said, that this was an execution. That's what the witnesses said from day one."
Crump also noted the trajectory of the bullets that went through Brown's arm and hand, saying that it's "obvious" that "his hands were up at some point."
Crump added, "His mother wanted to ask the question that Dr. Baden nor any of the lawyers could answer: 'What else do we need to get them to arrest the killer of my child?'"