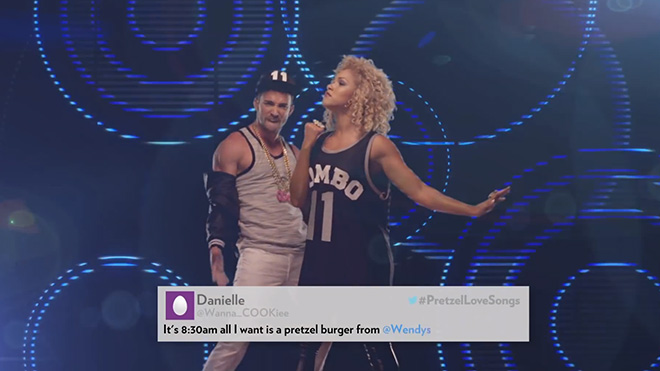 Did we have a "hit of the summer" this year? If not, we would like to personally nominate Wendy's love song dedicated to their Pretzel Bacon Cheeseburger.
The song is called "Let It Live" and is a clever and passionate ode to both the pretzel burger and its fans, comprised of lyrics taken directly from the social media hashtag #PretzelLoveSongs.
Wendy's describes the Pretzel Bacon Cheeseburger as a "perfect blend of three iconic American favorites: pretzel, bacon and cheeseburger."
According to Wendy's, the pretzel burger is "one of the best performing promotional hamburgers in test markets."
So to show appreciation to their bacon-burger fans, the fast food chain came up with the idea of giving them "15 minutes of fame" by collecting all of their social posts (via Twitter and Facebook) and putting them to song. The result is what you see in the video above, released via Vevo last Tuesday (Aug 12).
Here are some of our favorite social media messages turned lyrics:
#RealTalk … Pretzel bun is here to stay … Wendy's pretzel bun is bae … *Prayer hands emoji*
Watch the clip above!
h/t: Bacon Today, Vevo
Be the first to receive breaking news alerts and more stories like this by subscribing to our mailing list.