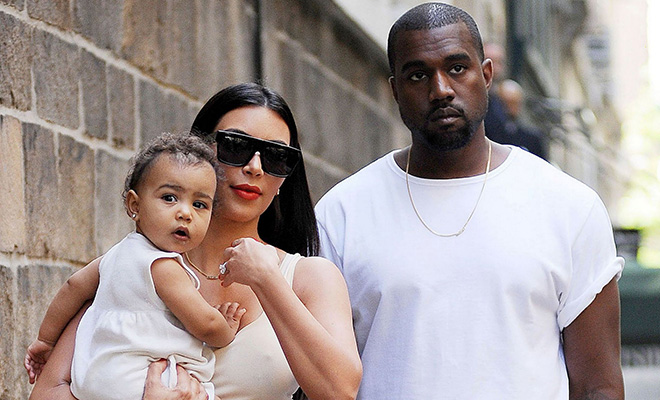 Kim Kardashian and Kanye West recently plopped down $20 million to purchase a 3.5 acre estate in Hidden Hills, California with pools, vineyards and all kinds of fancy rich people stuff. But before that, they were building a palace of their own from scratch with two kids' rooms: one for Nori and the other for her little brother/sister aka Baby Kimye #2!
After Kim and Kanye found out that the paparazzi could shoot right across the street, the couple decided not to buy that house — Kanye HATES the paparazzi — but before that, Kim shot a scene for "Keeping Up with the Kardashians," in which she gives her grandmother a tour of the original home while it was under construction. The episode aired this past Sunday night (Aug 10).
Watch the clip here:
"This is gonna be the second kid's room," Kim informs her grandmother as they step into one of the rooms. "You mean guest room?" Kim's grandmother attempts to correct her.

"Kid's room," Kim firmly states. "You never know. I feel like by the time we move in, I'll probably be pregnant."
Kim also recently told ET she was ready for Baby Kimye #2:
"Could you imagine wrangling two babies around?" asked ET's Rob Marciano. "You said you wanted a big family, is baby No. 2 on the horizon?"

"I'm hoping so," the Keeping Up with the Kardashians star revealed. "You know I kind of wish I was pregnant at the same time Kourtney is. She's like more than half way in, so you know, we're trying."

Kim added that she thinks it would be "fun" for all the sisters to be pregnant at the same time. "There's a lot of craziness in the house, so why not add pregnancy hormones to the craziness?" Kim said, smiling. "It would be like a partner in crime. Someone to know those cravings that you're really going through."
In related Kim Kardashian news you care about so much, the reality star is reportedly compiling some of her best self-portraits for an upcoming 352-page book of selfies, due out in April 2015.
Be the first to receive breaking news alerts and more stories like this by subscribing to our mailing list.