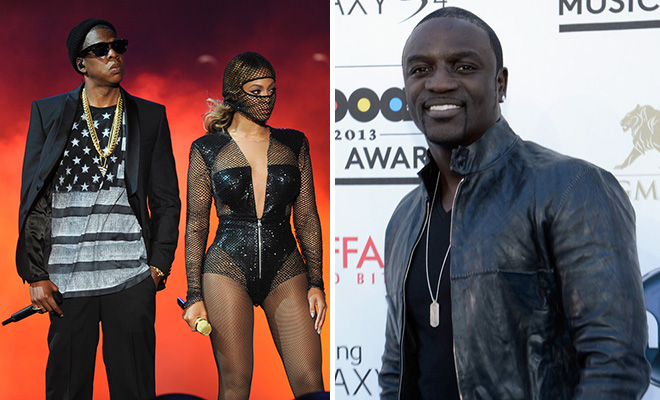 Akon recently weighed in on the controversy surrounding Jay Z and Beyoncé following rumors that they are planning on breaking up soon, maybe even before their "On The Run Tour" wraps.
Akon was in D.C. earlier this week when TMZ cameras caught up with him (in the daytime, thankfully) and he was "super open" about celebrity relationships, most notably Jay Z and Beyoncé's.
Akon's outlook on the situation is that the power couple are investing way too much time into making their love for each other look more like business, rather than genuine affection, and he says he believes the power couple's relationship could be in trouble because of that.
Akon feels the mega-couple always presented their relationship to the public as more of a business than a real relationship. He says famous people need to be open with their fans about their relationships or else they invite the kind of rumors that have dogged Jay Z and Beyonce lately.
"This could become detrimental for their relationship if they ain't strong enough to keep it together," Akon said.
He added, "Their relationship has been more of a business to the outside world than an actual relationship … Now, to them, it may be a relationship, but it was presented to the world and it feels more corporate.
He continued, "Let me just speak for myself. I don't want to speak for everyone else. I'm just saying, how it may look from the outside coming in. They were trying to keep that relationship out of the public. When you a person of interest in the public, it's almost impossible to do it without speculation.
"If you become a public figure and you have a relationship, your relationship also becomes public … So, if you don't open up to the public and let people understand what this is, they will naturally speculate. Those speculations are gonna be completely opposite or completely wrong of what could really be happening.
"Now, you gotta answer or reply to what you shouldn't have had to in the first place. It's truly no one's business. But, it becomes a business of the public when you're a person of public interest. It's a matter of them saying, 'How do we go about moving forward?'"
Despite the inevitable rift rumors like these could potentially cause in any high profile relationship, Akon says he believes the speculation surrounding Beyoncé and Jay Z's marriage could lead to better music from the duo.
"What they're going through is going to make great music, better music," he said. "Now, they have more content to think about."
h/t: Hip Hop DX
Be the first to receive breaking news alerts and more stories like this by subscribing to our mailing list.