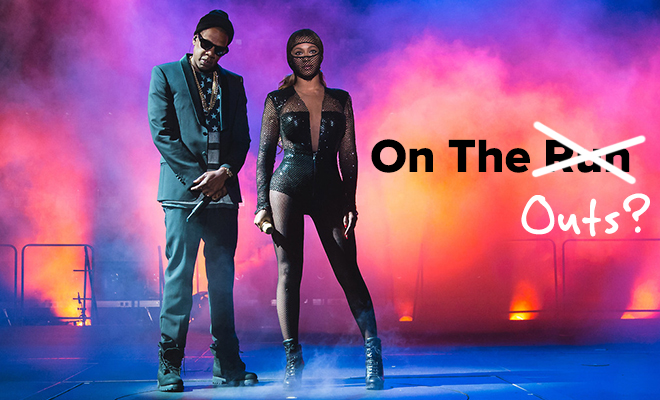 Beyoncé and Jay Z are traveling all over the country (and they'll hit Europe too) for their "On The Run Tour" and they're also readying a big cable TV special to air on HBO in September, but a new report from the New York Post's Page Six claims that Mr. and Carter are living totally separate lives on the road and things are so bad that the couple may cancel their tour altogether. Yikes!
Rumors are already swirling that Bey and Jay are planning to end their marriage after their tour wraps, but Page Six is reporting that the power couple had an emergency meeting with Live Nation, HBO and at least four lawyers to "address the couple's rapidly imploding marriage."
Rapidly imploding? Really? That sounds pretty bad.
Watch: Beyoncé & Jay Z Get "Drunk In Love" on HBO
The emergency meeting was reportedly held Thursday, and execs wanted to put out a statement, however Bey and Jay declined because they "couldn't agree on what it would say."
Now officials fret that the couple's $100 million On The Run Tour might be canceled before its scheduled finale. "This may not make it to San Francisco," a source said. "I'm definitely not sure that they'll make it to Paris."

The tour, which is promoted by Live Nation, was in LA this weekend and was to arrive in San Francisco for two shows beginning Monday. The finale is scheduled for Paris in September.

HBO, meanwhile, plans to telecast a major special on the tour in September. "There are lawyers that have now joined the tour, and they're not here just to see them perform. They are here to help hash things out," the source said.

Live Nation CEO Michael Rapino and HBO chief Richard Plepler wanted the meeting before "this becomes a public-relations nightmare," the source said, adding that HBO cameras have captured much of the performances and the network plans a major special in September.

"Rapino is pissed that ­everything is so out in the open and things are so heated," the source said.
Things have reportedly gotten so bad that the couple, who married in April 2008 and welcomed their first child Blue Ivy in 2012, aren't even living together right now, and are leading separate lives even while on tour.
"They're not just staying in different hotel rooms, but they have booked separate hotels, and they arrive separately to each show," the ­insider said.

On stage and online, however, the stars have been playing the loving couple — with Jay Z snuggling Beyoncé during a show Wednesday night in Seattle.

The source said that one of the problems in the marriage is Jay Z's controlling nature and that, even now, the rap impresario won't back off.

"They've had discussions lately about the inevitable sit-down interview when they finally do split, and Jay's been adamant that he doesn't want Beyoncé sitting down with Barbara Walters or Oprah Winfrey pretending to be the victim," the source said.

It's estimated that Jay Z has a net worth of more than $550 million and Beyoncé about $300 million. But the source said it's unclear who would get what in a divorce.

"From what I know, there's no prenup," the source said.
via: Page Six
Be the first to receive breaking news alerts and more stories like this by subscribing to our mailing list.