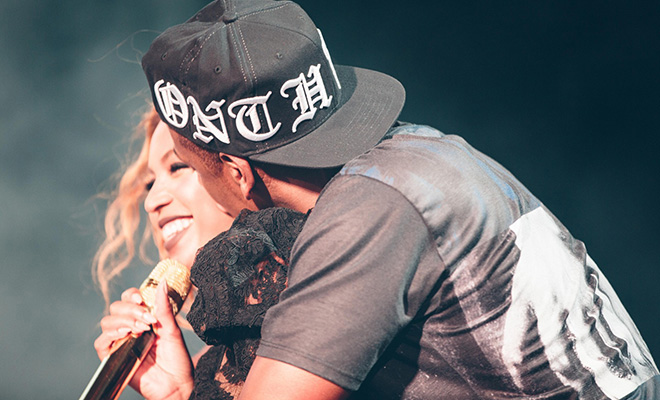 In case you didn't already know, the whole world is on "Mr. & Mrs. Carter Watch" right now, looking for any and everything to prove that Beyoncé and Jay Z are on the verge of divorce.
Ever since TMZ posted that video of Solange attacking Jay Z in an elevator after the Met Ball, rumors that the couple was having serious trouble in paradise have been flying all over the place.
The New York Post is pretty convinced that Blue Ivy's parents are divorcing because Jay Z is "screwing Rihanna," and now the NY Daily News' gossip column Confidenti@l is saying that the couple are "carefully orchestrating the business of splitting up" as their tour comes to an end.
According to their sources, the power couple will address their problems, but not until their "On The Run Tour" ends in late September, and also likely after their highly anticipated HBO special airs sometime that month as well.
A close pal of the hip-hop power couple says Bey and Jay are being advised to play up their happy family act for the paparazzi and on social media, despite the collapse of their marriage. They will release a joint statement addressing the rumors in late September, once their current tour wraps, the friend says.

"Let's leave it at it's only a matter of time (until they split.) It's so obvious now it's embarrassing," a source tells Confidenti@l. The duo are currently on the West Coast leg of their successful On the Run tour. "Around the time the tour ends, they'll make a choice on whether they want to separate or admit trouble."
Another friend of the super couple says Jay is "so over it" and their relationship is "strictly business." Jay has been telling his friends that he "wants out immediately," and Beyoncé is reportedly fine with "keeping the act up indefinitely," the source said.
"He wants this tour to end and he wants the rumors to stop," another NY Daily News source said.
More via Confidenti@l:
"This (trouble) has been brewing longer than anyone knows," says our first source. "They're performers. And they're good performers. It's a business now, and they are business partners. And they don't even fight. They know what it is."

The News hears the majority of the trouble comes from Jay's extracurricular activities with other women — he's been rumored to have been unfaithful to Bey numerous times since Blue Ivy arrived.

Their charade was working perfectly until May. That's when leaked video showed Beyoncé's sister, Solange Knowles, kicking and punching her brother-in-law in the Standard Hotel's elevator following the Met Ball. Big sister Bey appeared to calmly watch the beat down.

But now, whispers of the relationship's epic collapse are so loud that Bey and Jay have been reaching out separately to pals, complaining they're unhappy because the energy of keeping up appearances offstage has become unbearable.

"They are both being advised on how to look like they're together. A negative report comes out, or a breakup report comes out, and they are advised to post a picture with Blue Ivy," says our second source.
So the biggest question remains … why stay together?
"Why do you think?" the source said. "Money. They will play the public as long as they can and get richer doing it."

And while both the rapper and the singer are independently wealthy, they recognize the power they have together to pull in even more cash — and have choreographed On The Run with ample hugs, kisses and cuddles to appear like a solid married couple. Billboard has reported the tour can expect to gross close to $100 million before it ends its run.

"This is a classic case of damage control. Staged photos, tweets, it's a business relationship," says our well-placed insider. "They're on tour and to get through the tour they have to put up a persona. It's all spelled out. It's more financially beneficial for them to continue the tour and the Instagrams and tweets while all this is happening. That's how damage control works."
Damage control? Staged photos? Tweets? NOTHING IS REAL ANYMORE.
But let's not forget that Mr. & Mrs. Carter are publicity experts, and it wouldn't be surprising is all of this was just something someone behind the scenes was doing to promote their tour.
As this this Huffington Post article astutely points out:
It could be argued that the threat of a divorce could make their On The Run tour seem like the last time fans could potentially see them perform together, which could definitely be a narrative that would help drive ticket sales.

And doesn't it seem strange that Beyonce was able to keep her entire album a secret right up until the moment it dropped, and yet suddenly someone in her camp won't stop leaking secrets to The New York Post?

Also, where is TMZ in all of this? Why hasn't the outlet, which was responsible for procuring the video that started all the divorce rumors in the first place, chimed in at all?
Do you think Beyoncé and Jay Z are on the brink of divorce?
Be the first to receive breaking news alerts and more stories like this by subscribing to our mailing list.