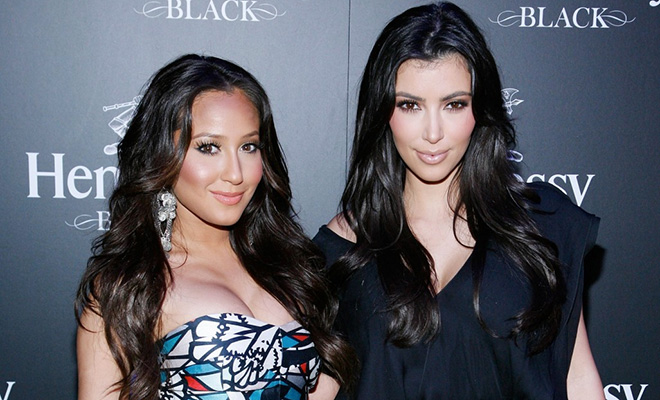 Mrs. Kim Kardashian West does not appreciate the way Adrienne Bailon talked about her family in a recent interview.
Adrienne Bailon covers the September 2014 issue of Latina Magazine, and inside, Bailon — who publicly dated Rob Kardashian on-and-off for years before splitting in 2009 — talks briefly about being on "Keeping Up with the Kardashians" and how it was bad for her career.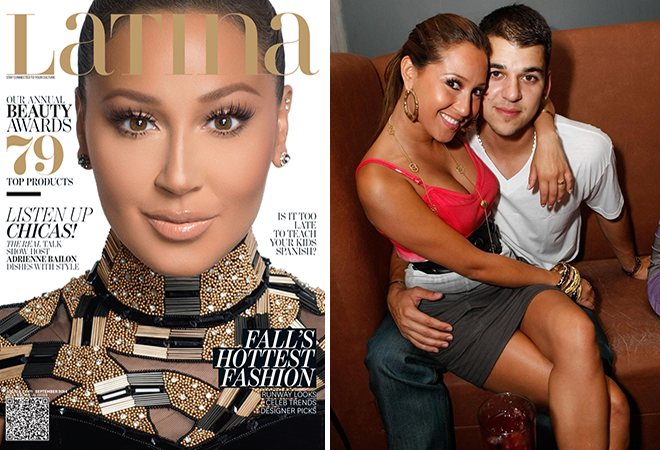 "To be stuck with that Kardashian label, that was so hurtful to me and to my career. I probably realized that too late — not that it would've affected my decisions in terms of who I dated, but it would've affected my decision to appear on the show. At the time, I didn't think anyone would even care. To this day, people will still say, 'You ruined Rob's life!' and I'll think, Damn, I was still playing with Barbie dolls when I met him."
She also talked about why she won't bring her boyfriend, Def Jam Records exec Lenny Santiago, on a reality show.
"When I was doing the reality show [Empire Girls] with Julissa [Bermudez], the producers wanted me to show my relationship with Lenny," she said, "but I didn't want to do that; I didn't want a repeat of what happened with Rob."
On top of that, Adrienne threw Rob under the bus even further by airing out private details about their relationship.
"It's common knowledge that he cheated on me, and it always bothered me that people were like, 'Pero, why couldn't you forgive him?' Why are women always the ones who have to forgive? If you cheated on a man, he would be like, 'You're disgusting, and I want nothing to do with you.' But women, we're supposed to be like, 'He messed up. He made a mistake.' And, in my situation, it wasn't like, 'Oh my God! I made a mistake!' He strategically planned things out so that he could cheat on me, and that to me was so disloyal."
Of course Kim, who used to be really good friends with Adrienne (thanks to her brother's relationship with her) didn't take her comments lightly, and while the Kardashians is usually good pretty good at ignoring the constant shade being thrown at them on a regular basis, Kim slammed Adrienne on Twitter for trash-talking her family and her brother.
Funny how she says being with a Kardashian hurt her career yet the only reason she has this article is bc she is talking about a Kardashian

— Kim Kardashian West (@KimKardashian) July 30, 2014
#LetItGoooooLetItGoooooo (FROZEN VOICE)

— Kim Kardashian West (@KimKardashian) July 30, 2014
So sad when people try to kick my brother when he is down #FamilyForever

— Kim Kardashian West (@KimKardashian) July 30, 2014
Khloe Kardashian, who has always been Rob's biggest cheerleader (for proof see the latest episode of KUWTK that aired Sunday night) also chimed in, RT'ing Kim's messages and throwing in a couple of her own.
thought her and I were cool SMH "@Kardashian411: Adrienne has a lot of nerve to talk shit about Rob when he is obviously dealing with shit."

— Khloé (@khloekardashian) July 30, 2014
Don't think it was a secret. For sure. Don't kick my brother while he's down "@macklemroe: @khloekardashian was kimberly shading her?"

— Khloé (@khloekardashian) July 30, 2014
Lesson of the day: don't f**k with the Kardashian Klan!
Be the first to receive breaking news alerts and more stories like this by subscribing to our mailing list.