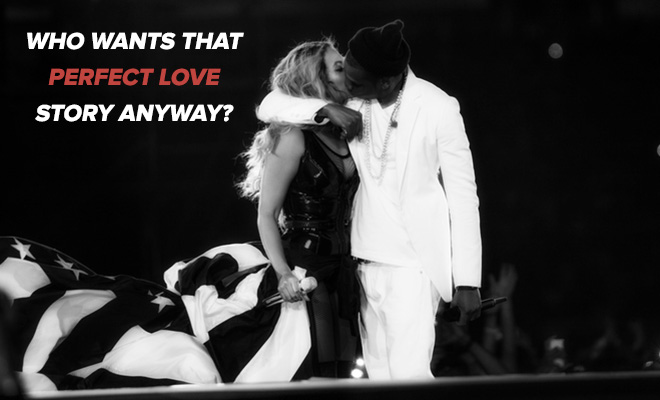 If you believe the gossip surrounding Beyoncé and Jay Z's marriage, it's beginning to look like our favorite power couple are on the brink of divorce.
Granted, random divorce rumors have been popping up ever since they got secretly married in New York City in April 2008, but things have really picked up ever since that infamous elevator fight with Solange.
Last week, the gossip site Jezebel posted a lengthy write-up detailing the rumors of the "imminent breakup" of Mr. & Mrs. Carter, and they quoted a "particularly damning item" from Blind Gossip, which correctly predicted the Tom Cruise and Katie Holmes' divorce:
We have told you MANY times before that this high-profile marriage is just a business arrangement. We have also told you that this business arrangement will wind down after their current project is finished. Well, it's almost over!

They are splitting up everything (properties, money, child/ren) right now, but will be keeping up appearances until the announcement. They are separating this year, with the divorce to follow in about six months. It will be very clean and very fast. In fact, the parties involved are describing the timeline as "Tom Cruise/Katie Holmes fast."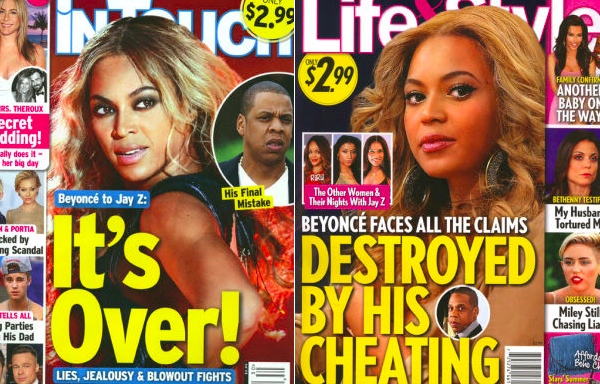 Of course, the tabloids have been creating their own stories, but now, the more credible Page Six is reporting on Beyoncé and Jay Z's "crumbling marriage."
The lengthy piece is worth a full read, but here are the highlights:
A source who has been close to Beyoncé and Jay Z for years tells The Post that all is not well — and hasn't been for quite some time.

"There's still something there, even though it's not going to last," says the source. "Business is always part of the equation. They know they're the king and queen of hip-hop — and really, all of music. Neither wants to lose that."
In the weeks since Beyoncé's sister Solange was caught attacking Jay Z in a hotel elevator after the Met Gala, the couple's tightly controlled image has been crumbling. And while they've been pushing back, kissing on stage and playing happy family on Instagram, the source says Jay and Bey are permanently broken, and that both are at fault.

"Knowing them as I do, obviously there's a little something to certain rumors," the source says. "When your man or your woman isn't getting it done for you, and I'm talking emotionally, not necessarily sexually…they keep things quiet." Not for much longer.
Matthew Knowles — who was described by former Destiny's Child member LaTavia Roberson as "a drill sergeant" who made the girls work hours a day, seven days a week — slowly found himself edged out of his daughter's life and career by Jay Z. Beyoncé had gone from one man to another, never truly being on her own. "There's no bigger controller than Jay," the source says. "She's great, but she'd be a little lower on the totem pole if it weren't for hooking up with him."
In terms of ambition, talent, business acumen and work ethic, Beyoncé and Jay Z were perfectly matched. "They are solid, solid business people who know what they're doing," says the source, with Jay the mastermind.
Over the past few months, says the source, Beyoncé has been losing respect for Jay Z and, ever on-brand, she's been dropping hints. While performing "Resentment" during the couple's June 28 show in Cincinnati, Beyoncé changed the lyrics from "Been ridin' with you for six years" to "Been ridin' with you for 12 years." That would reference the year they became a couple.

And after the lyric "I gotta look at her in her eyes and see she's had half of me," Beyoncé tacked on the lines, "She ain't even half of me/That bitch will never be." Recent photos show that the "IV" tattooed on her ring finger — for her birthday, Jay's birthday, and their wedding date — has been erased.

The source says the elevator fight after the Met Ball was really over Jay's protégé Rihanna, who he allegedly planned to meet later that night at his 40/40 club. "Solange was like, 'Enough is enough — you must be [screwing] Rihanna,'" says the source. "To many people who know them, they know it's not out of the realm of possibility."
Today, the source says, it's not whether they'll split, but how they'll split — adding that the only time Jay and Beyoncé are really together is on stage. They're allegedly traveling with marriage counselors, but Jay — as he's always done — spends much of his time on the phone, tending to business. "His phone's constantly ringing," says the source, "Jay trying to make deal after deal."

The question now is whether to stay married while essentially living separate lives — becoming the Bill and Hillary of hip-hop — or publicly divorce. Ultimately, it will be about the brand. "There's face-saving involved — they don't want to be looked at like other celebrities out there," says the source. "They are business people first, entertainers second. Husband and wife comes somewhere down the line."
And now, there are reports that Beyoncé is secretly shopping for a new apartment … WITHOUT Jay-Z.
The booty-ful belter looked at a $21.5 million Chelsea penthouse early last month — weeks after a videotaped elevator smackdown involving Bey's sister, Solange Knowles, and Jay, and amid growing rumors of an impending breakup, said sources close to the superstar couple.
"She was very quiet, as if she was looking on the sly," a source said.

Fueling the notion that Beyoncé is not shopping for both of them is the fact that Jay Z has always been extremely involved in their real estate deals, sources said. Yet he was nowhere to be seen during the apartment showing, they added. Jay also would be loath to leave their current posh Tribeca pad, a source said.

Noting that the couple's 8,309-square-foot Tribeca crib is more than twice the size of the 4,045-square-foot West 19th Street pad Bey was looking at, the source added, "I can say with certainty that Jay is not downsizing."

The source said it would seem clear the new home is for Beyoncé and their 2-year-old daughter, Blue Ivy.
Ruh-roh…
Be the first to receive breaking news alerts and more stories like this by subscribing to our mailing list.