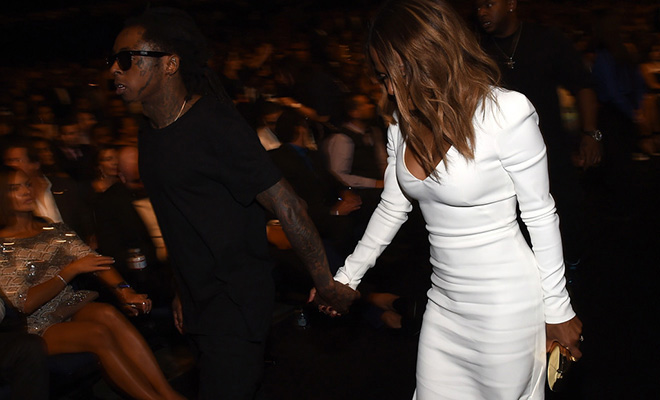 While Drake was busy hosting the ESPY's last night, his boss Lil Wayne was showing off his newest love interest.
Weezy was spotted at the award show holding hands and looking affectionate with Christina Milian, possibly confirming that the two are dating. The picture was taken as the two walked briskly by a photographer at the show, as if they didn't want to be seen.
The news shouldn't come as much of a surprise to anyone since back in May, Weezy previewed a song called "Tina Turn Up Needs a Tune-Up," referring to Milian (who also goes by Tina Turn Up).
Wayne also took jabs at Christina's ex-boyfriend Jas Prince — who previously filed a lawsuit against Young Money over Drake royalties — in the song.
According to our buddies over at Necole Bitchie:
Christina Milian just broke up with her fiancé Jas Prince. Prior to the breakup, Lil Wayne released a track called "Tina Turn Up Needs A Tune Up" where he took subliminal jabs at Jas Prince. The lyrics included, "I'll take your Tina" (Short for Christina), and "She needs a king, f-ck a prince" (in reference to Jas Prince).

Sources close to Jas Prince say he is very hurt by all of this, especially since he used to be cool with Wayne. He is credited with introducing Drake to Lil Wayne, and he also allegedly helped Christina Milian get her deal with Young Money. Things started falling apart between Lil Wayne and Jas Prince after Jas filed a lawsuit against Young Money's management team for unpaid royalties he felt he was owed from Drake's deal.

It also seems as though Wayne has a thing for The-Dream's exes. He famously dated singer Nivea, after her marriage to The-Dream, and years later, he seems to be courting Christina Milian who also married and had a child by The-Dream.
Lil Wayne and Christina Milian being together may actually not be a bad look, we know Wayne can definitely rejuvenate her music career, and she'd make the perfect next baby mama in his ever-growing list, wouldn't she?
Be the first to receive breaking news alerts and more stories like this by subscribing to our mailing list.