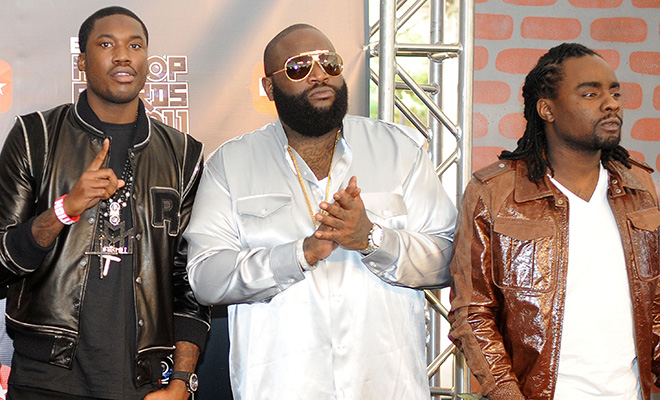 Rick Ross has finally spoken out on Meek Mill and Wale beefing on Twitter.
Last week, things went downhill for Maybach Music Group when Meek called Wale out for not supporting his music.
Ross recently sat down with Bullett Media and when questioned about the Meek vs. Wale situation he revealed that it was just a battle of brotherly love.
Check out excerpts from the interview below:
On the way here, something was going on with Meek Mill and Wale. As the owner of the label, how do you handle when there's conflict between two of your guys?
It's a misunderstanding. As soon as the tweets went out, I spoke to both of them on the phone. Those two guys, they're brothers. At the end of the day, they're brothers and it's time to turn up right now. It's time for all of us to turn up and stay turned up, you know what I mean? But it's all love between those two and everybody knows that.

The fact you got on the phone though shows how much you care.
Of course! That's why you seen whatever was said, the little brotherly jabs and then that was it. That's all you're going to see. They're two real dudes, two successful dudes, and we all came from the same place. When I first brought them on the team, we all drove to our first video set together. It was just us three, and I felt we all was at the bottom at the time. You know, Wale was in his new situation, Meek in his first situation, and me in my very first situation being a CEO, being a bawse with my own label deal. So we all was on the same flow, and once we mention that, it's all good.

It's just a testament to how you handle beef, because you're pretty laid back about conflict, and when it's done it's done.
Of course! That's how it's supposed be, because we're not here for that. What we're here for is this, the culture! Fashion, the clothing, sneakers, sending that message – that's what it's about. You know certain things will occur; that's just the nature of the game. There's going to be dust kicked up at every arena, and you should all expect that. But at the same time, we're focused on what we came for.
Be the first to receive breaking news alerts and more stories like this by subscribing to our mailing list.