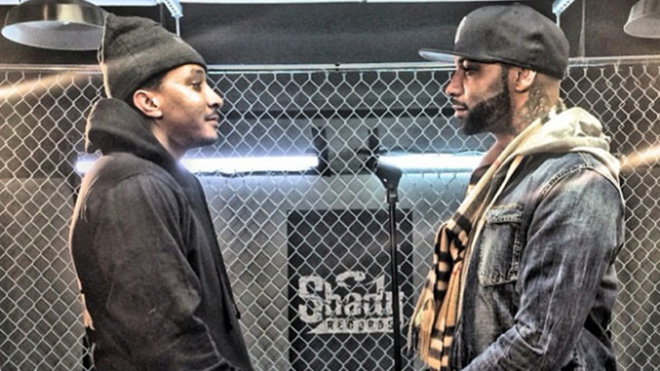 Damn son! Joe Budden may not be participating in any battle rapping for a while.
Over the weekend, the "Love and Hip Hop New York" star went toe to toe with fellow battle rapper Hollow Da Don in the first installment of Eminem and Shady Films' "Total Slaughter" rap battle Event in NYC.
Joey seemed to have the upper hand until the final round when Hollow called him out for allegedly abusing Tahiry.
"I kinda figured that, with Tahiry, the way he be treating her, spreading her business on social media, even beating her…" Hollow Da Don rapped.
Hollow Da Don went even further to tell the judges to stop the clock and got in Joe's face and sonned the hell out of him, saying, "Beating her, my n*gga? Yo, stop my clock. You ever hit a woman in your life, I'll f*ck you up you f*ggot. Do that sh*t in front of me, you p*ssy. Beating on women, you bitch ass n*gga. You're a f*ggot. You hit a woman, I'll f*ck you up."
Joe Budden ended up quitting in the last round giving Hollow Da Don the win.
"If y'all don't stop booing I'm gonna stop rapping," Joe told the booing crowd before laying the mic down.
Watch Joe Budden get sonned by Hollow Da Don in the video above!
Be the first to receive breaking news alerts and more stories like this by subscribing to our mailing list.