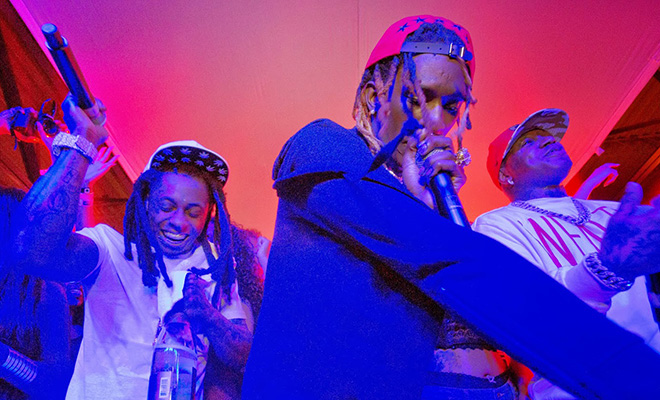 Young Thug has revealed that he has recorded not just one, one hundred, one thousand or even one hundred thousand, but ONE MILLION songs with Lil Wayne.
In an interview with MTV News on the 2014 BET Awards red carpet, Young Thug — who in the past has called the Young Money head honcho his idol — claimed, "I recorded a million tracks with Wayne already."
We're almost 100% certain he's exaggerating (BIG TIME), because not only is it impossible for someone to record a million songs, but who would record a million songs with Young Thug?
Aside from his forthcoming Weezy collaboration, the ATL rapper also revealed he has something with Nicki Minaj in the works.
"I'm gonna do something for my project and [Nicki's] project because we're family," he said, adding, "it wouldn't be right if I just did hers, and it won't be right if she just did mine."
Thugger also commented on his alleged signing to Lyor Cohen's 300 imprint, brushing off the reports and pledging his allegiance to Birdman's Rich Gang management company.
"We signed forever," he said "It's not no 300, it's not no 100, 250–whatever you call it, it's a lifetime warranty, you dig? It's in and out. Blood in, blood out."
Watch the full interview:
Be the first to receive breaking news alerts and more stories like this by subscribing to our mailing list.