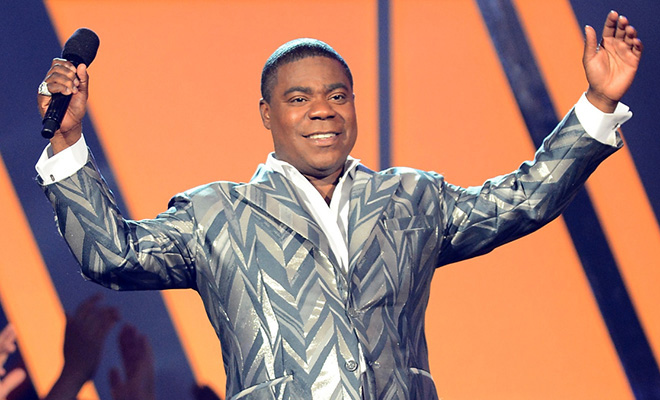 Tracy Morgan's health is continuing to show signs of improvement following a deadly six-vehicle accident he was involved in.
The actor-comedian's rep released a statement revealing that he has been upgraded from "critical" to "fair" condition, which is really good news!
"Happy to pass along that Tracy has been upgraded to fair condition, which is a great improvement," Morgan's publicist Lewis Kay said. "His personality is certainly starting to come back as well."
Morgan was injured badly on June 7th when a Walmart truck slammed into a limousine bus carrying him and four others on the New Jersey Turnpike. The group was returning from a show at The Rollins Center at Dover Downs in Delaware at the time of the accident.
Morgan was hospitalized with broken ribs, a broken nose, a broken femur, and a broken leg.
Comedian James McNair, Morgan's friend and comedy mentor, was killed in the crash, and the other people riding in the limo bus — comedians Harris Stanton and Ardie Fuqua, as well as Morgan's assistant Jeff Millea — were seriously injured.
Stanton has since been released from the hospital and told his story WABC-TV New York:
"We're in the limo, we're talking, cracking jokes, and there was no window in the limo so we weren't able to brace for anything, and the next thing I knew there was crunching metal all around me," said Stanton.

"I remember thinking, 'Oh my God, I'm in an accident, I'm trying not to die, it was very traumatic," said Stanton, who said he didn't even know that the limo had flipped. He says no one was sitting in the far back section.

Stanton said he was wearing his seat belt but isn't sure if anyone else was.

"When it stopped, Tracy was on top of me and I didn't see anyone else. I was just saying, help me, get me out of here."

Stanton said Morgan wasn't moving. "He was unconscious, he was moaning and groaning, he was breathing. But I was the only one screaming," he said.
Kevin Roper, the driver of the Walmart truck, has pleaded not guilty to vehicular homicide and assault by auto charges. It was reported that he had not slept in over 24 hours at the time of the accident.
We wish Tracy the best of luck in his road to recovery. Get well soon!
Be the first to receive breaking news alerts and more stories like this by subscribing to our mailing list.