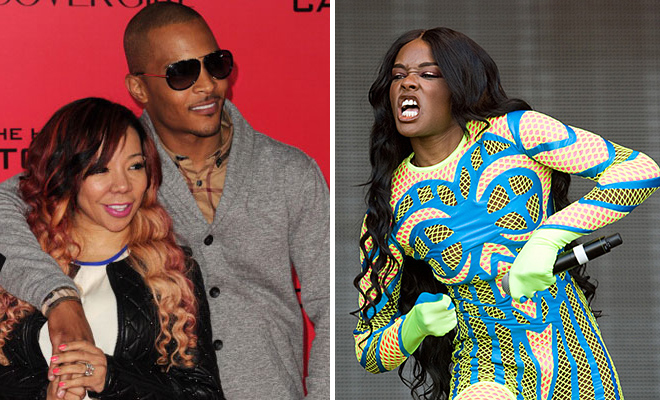 Azealia Banks is messy, messy, messy!
The Harlem rapper is no stranger to Twitter beef and has had her fair share of fall-outs on social media.
In the past, Banks has went to war with everyone from T.I. to his Hustle Gang artist Iggy Azalea, and earlier this week, Azealia reignited beef with T.I. when she threw shade at his wife Tiny.
Apparently it was all over a song Tip released Monday (Jun 16) called "Mediocre" featuring Iggy Azalea, in which he talks about how he only messes with "bad bitches."
Azealia for some reason felt as if it was her job to let Tip know that Tiny is mediocre.
She tweeted (before later deleting):
U want no mediocre but … Have you seen your wife?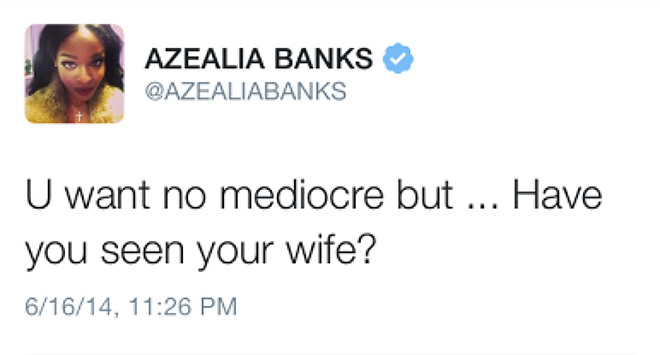 Tiny quickly caught wind of Azealia's nasty remarks and posted a Rihanna meme on Instagram in response:
The following Tuesday morning, in response to Tiny's Insta-jab, Azealia continued hurling insults at Tiny in a series of tweets that she (again) deleted:
What do you do when your wife can't read and they put it on national Tv?

At least I can read! LOL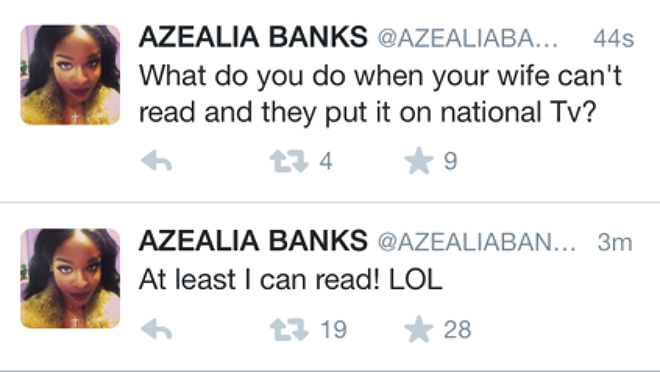 But things really got out of hand  when T.I. — who we all knows doesn't play when it comes to his wife (despite whatever "issues" they may or may not be having behind closed door) — had some very harsh, threatening words for Banks.
This is what he wrote in the caption of a very unflattering photo of the rapper that he later deleted:
U musty-mouthed-thot-bot-bad-body-syphilis-lipped-rectum-vomit-unimportant-ugggggly-monstrosity-of-a-maggot-ass BIIIIIIIITCCHHHH!!!!!! If u speak ill of my family again….. I WILL END YOU!!!!!! #OnPHIL #OnDOE #NoBuuulllshit people fall down stairs daily…. U better watch yo step,u ungly-ass Gremlin-baby #nerveofdisCretin #fuckouttahea
Azealia went on to attack Tiny even further, calling her a "busted bumpkin" and saying that she has "meth face," all while accusing T.I. of not being real and threatening to sue the ATL rapper.
Men have such deluded ideas about what women should be doing. The nigga shouting bad bitches this bad bitches that, is almost always at home with some busted bumpkin. rap is not real. These niggas are all fronters. But your wife has meth face. And your wife can't read. I saw you backstage at Kanye and you had nothing to say. I stood next to you ON PURPOSE. To see if you would say something. I'm taller than you in my heels. Come see me nigga. And come by yourself. Guess who's about to get sued for threatening me! Niggas Love Jail.
She added:
This grown ass man with kids went and cropped his favorite part of the atlantis video and really threatened to put hands on me LOL. Niggas really do be hella pussy. u went to jail a million times for guns and drugs and are gonna turn around and threaten some girl. yea i shouldn't of said it, BUT SO WHAT, IT WAS FUNNY, really had to take it to threats? This is not a good look for you black man, it really isn't. You've already been to jail for drugs and guns, your wife can't read… can you be more of a statistic? You see what i mean when i say hip-hop is a minstrel show? BET HE WON'T DO SHIT. But sit and simmer, and watch the rest of the atlantis video. T.I be voguing to atlantis. He be like YAAAAS BITCH YAAAS
We don't blame Tip for defending his wife … but is Azealia even worth arguing with?!?
Nope. Not even a lil bit. As a matter of fact, we completely forgot who she was until this week! SMH.
(Ed. note: Did he really have to call her a "THOT BOT" though? LMFAO!!!)
Be the first to receive breaking news alerts and more stories like this by subscribing to our mailing list.