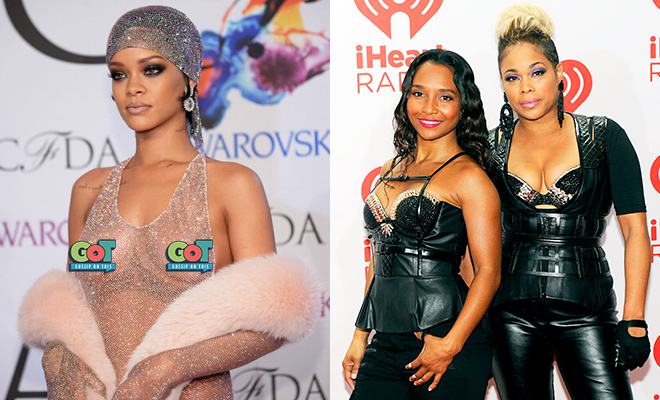 T-Boz and Chilli of TLC recently slammed Rihanna in an interview with an Australian radio station for "selling sex" by wearing revealing outfits all the time (like this one), and Rihanna snapped back the best way she knew how: by throwing major shade of epic proportions.
"You know what Madonna did it [first] … but right now its like a domino effect, everybody seems to be doing that because it gets so much attention," Chilli told Sydney's Channel 7 Sunrise. "People are usually followers, it's rare that you have leaders who switch the game up and do something totally different. So you have all these followers, all of them doing the same thing as a result … posting half-naked pictures of themselves on Twitter and Instagram – it's just crazy, almost like you are dying for attention."
"Every time I see you, you don't have to be naked," Tionne 'T-Boz' Watkins saidl, presumably about Rihanna. "It's hard for us to say anything because any time we do, they say, 'Oh, TLC must be jealous,' but it is what it is. I call a spade a spade."
Agreeing with T-Boz's opinion about Rihanna, Rozanda 'Chilli' Thomas added, "We became the biggest selling girl group with our clothes on, and that says a lot. It's easy to sell sex. We could go around with booby cakes all day long."
In true Rihanna fashion, the 26-year-old singer responded by posting a series of photos of herself laughing out loud and sticking her tongue out. "When there's no changing the fact that I'm me, and they're well… they're them," she wrote in one of the tweets.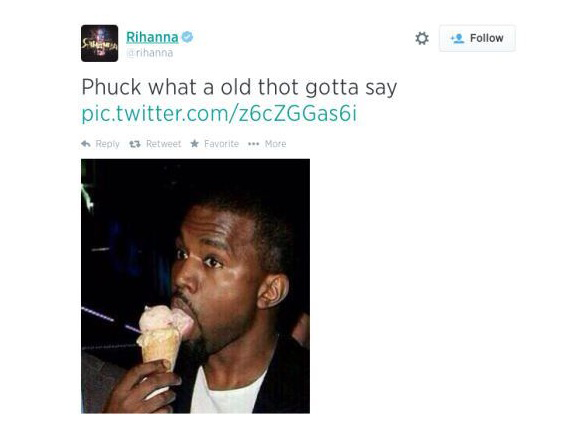 She also tweeted "Phuck what a old thot gotta say," along with a photo of Kanye West casually eating an ice cream cone, but she deleted that one. Below are the tweets that remain:
— Rihanna (@rihanna) June 6, 2014
— Rihanna (@rihanna) June 6, 2014
— Rihanna (@rihanna) June 6, 2014
When there's no changing the fact that I'm me, and they're well…they're them. pic.twitter.com/RCF4TqxN69

— Rihanna (@rihanna) June 6, 2014
Adding fuel to the fire, Rihanna shaded the group even further by changing her Twitter header to a topless photo of TLC from back in the day.
T-Boz has since responded to Rihanna's shade-throwing session and took to Twitter to defend her comments, telling fans she never specifically called Rihanna out: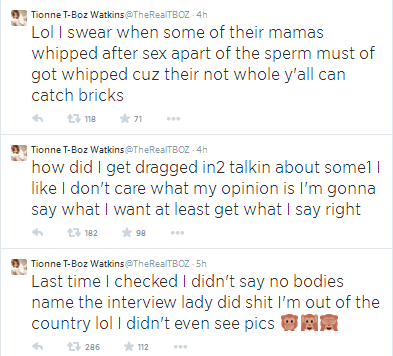 Whose side are you on? Do you think Rihanna was right to respond the way she did?
Be the first to receive breaking news alerts and more stories like this by subscribing to our mailing list.