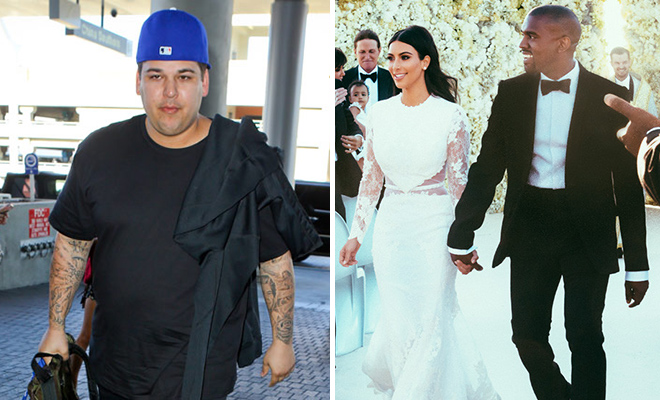 Kim Kardashian and Kanye West got married Saturday, May 24th in Florence, Italy at the Forte di Belvedere in front of their "closest family members and friends," but one "close family member" was noticeably absent from the festivities, despite us seeing his arrival at the airport a few days prior.
TMZ reported that Rob Kardashian had caught an emergency flight out of Florence to LAX the night before the ceremony, and he was said to be "in tears while desperately trying to secure a seat."
It wasn't known exactly what happened to cause Rob to want to leave an entire continent to get away from the people closest to him, though TMZ chalked it up to "major family drama."
However, a source eventually revealed to X17 Online that the issue was specifically between Kim and Rob, and it was all over "superficial bullsh*t":
A source tells X17online, Kim and Rob had it out Friday before the lunch at friend/designer Valentino's chateau. Kim wanted the departure from Paris to look like a catwalk, with every member of the Kardashian clan wearing beautiful Valentino couture and looking like a million bucks. Obviously Rob didn't fit into that plan and that's when the war began…

"Rob said he was sickened by Kim and Kanye's display of wealth and clothes and beauty and called it 'superficial bullsh*t' but Kim was pissed that Rob hadn't made an effort to drop any weight over the past few months. Rob basically thinks Kim cares about him only for his appearance and he said he'd 'make life easier' for her and just leave.

"Rob booked his flight for Saturday morning and skipped the lunch at Valentino's. He just doesn't seem to feel comfortable or happy around his family at all. They're all wrapped up in the same pretty world and he just doesn't fit in."
But another source told E! News "Kim and Rob didn't fight."
"He wanted to be there, but he was feeling so insecure and didn't want anyone to see him heavier like this. Kim and Kanye completely understand. They love Rob and only want him to be healthy and happy."

While Kim and Kanye were saying "I do" on Saturday atop the Forte di Belvedere in Florence, Rob was spotted arriving home at LAX. Another source tells E! News that Rob's "in a really bad place right now" over struggles with his weight. However, it's good to hear his relationship with Kim is just fine.
Meanwhile, Radar Online has their own set of sources with their own theories:
After Rob Kardashian arrived in Paris, for sister, Kim's wedding, the siblings got into a heated argument in which the sex tape star accused her brother of leaking negative stories about her to the media causing the sock designer to abruptly leave Italy before the reality star's wedding to Kanye West, RadarOnline.com is exclusively reporting.

Adding insult to injury, the source claims Kim also hurt Rob's feelings by bringing up his weight.

"Kim and Rob haven't been speaking to each other for months…she thinks he is lazy, and bringing down the family name because of his physical appearance. After arriving in Paris, Rob and Kim got into a very heated argument because she thought he was just moping around the hotel. She encouraged him to go out and sight see, which he declined to do," the source told Radar.

"This made her extremely angry, and they exchanged words. During the course of the argument, Rob was accused by Kim of leaking negative stories about her to the press. That was the final straw for Rob, because that is something he would never do."

The source continued, "So, he packed his bags, and left Paris before the wedding. He wanted nothing to do with it, and thought it was ridiculous that Kim's third marriage was so over the top."
Other than the people who where there, who knows what really happened? E! cameras were reportedly documenting the whole wedding, so maybe HOPEFULLY we'll get to see this play out in a future episode of "Keeping Up with the Kardashians."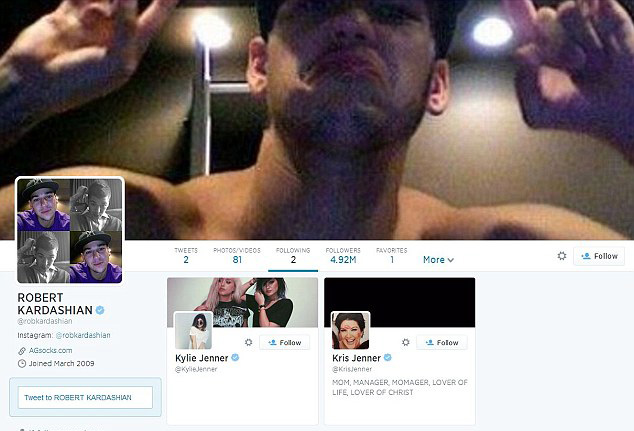 Rob has since deleted all of his tweets from his Twitter account and replaced them with inspirational messages before eventually deleting those too. He's now only following two people: his sister Kylie and his mom Kris Jenner.
Via Us Weekly:
On Monday, May 26, he tweeted "good morning from Los Angeles" before deleting all of his tweets, changing his Twitter avatar and starting new.

Kardashian, who has close to 5 million followers, then began tweeting out positive messages to members of the service for Memorial Day.

"happy memorial day," he began. "Blessed is the nation whose God is the LORD. Psalm 33:12. Lord Jesus, protect those who protect me- police, firefighters, and those in the military. Teach me to pray for them and to honor them for their service. Amen."

He wrapped up his message, writing, "GOD BLESS AMERICA."
The only tweets left on Rob's Twitter account is one from Beats By Dre announcing their $3 billion Apple acquisition and another retweeting a message from a user looking for a bone marrow donor match for a little boy diagnosed with cancer who has only 3 months to live.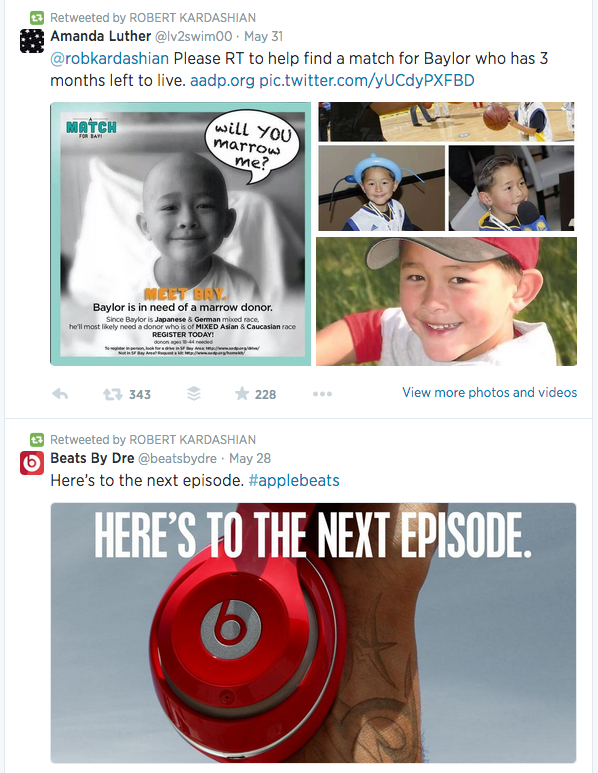 Be the first to receive breaking news alerts and more stories like this by subscribing to our mailing list.