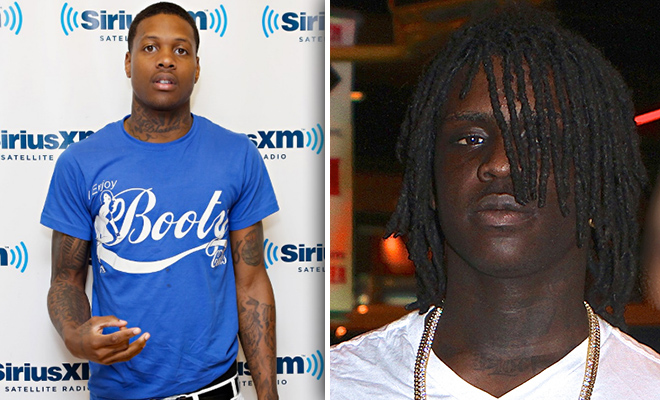 Lil Durk is not pleased with how his fellow Chicago rapper Chief Keef responded to Durk's beef with Game and Tyga.
Earlier this month, Lil Durk called out Tyga on Meek Mill's "Chiraq" remix for "sneak dissing."
"Heard Tyga sneak dissing on me, tell them thot bitches I'm not right / Tyga only got one name but that nigga ain't got one stripe," Lil Durk raps. "He backpack, so easy to get the nigga shit snatched / Ask Marly Marl to get his shit back / In Chiraq don't come here."
Last Tuesday, Tyga responded to Durk's diss by releasing a song called "ChiRaq to LA" featuring Game. In the song, Game references his feud with 40 Glocc as well as Tyga's issues with Lil Durk, saying he'll "jump in the middle of beef 'cause I don't like no one."
"I don't fuck with no new niggas," Game raps. "They like to sue, no woo, nigga / Tyga hit me like 'Durk dissing' / Dirk Nowitzki? Dirk who, nigga? / Never heard of these niggas."
He continues, "Lil Durk under a lil dirt, And nobody knows you / This ain't what they want / Nobody knows you / Bitch I thought that was Future's song / I'm bout to show you / You done caught yourself a lil L, dog / Man, nobody knows you / You heard of Lil Durk? Nigga, hell nah."
For his part, Tyga says: "I know some Hoover niggas that's down to ride for a homicide; When it's drama time / Niggas thinking that they emcees, they can't get touched, well, it's hammer time / Who the fuck is Lil Durk? / I dust you like ash and purp / Your flow wack, my flow crack / Got marble floors, your floor's cracked."
"@thegame: RT @MTVNews: Don't worry, @tyga. @thegame has got your back: http://t.co/tBnhyKyKK0 pic.twitter.com/r99PLV2vvS"

— AlmightySo (@ChiefKeef) May 6, 2014
When the song was released, Chief Keef ReTweeted a Tweet from Game (above), seemingly placing himself on the OTHER side of the fence, with Game and Tyga, a move that Lil Durk calls disrespectful, considering the fact that he and Keef are both from Chicago.
"He need help," Durk told Chicago radio station WCGI when they asked him about the diss track. "It's over that, on to the next one. I'm cool. [Chief Keef?] At first it was just Twitter and then there was just phone calls, everyone trying to get everybody back together. Soon as Tyga and Game's song dropped, he posted it onto his page. He ain't disrespect me only, he disrespected the whole Chicago. He ain't got to deal with me at the end of the day, he got to deal with everybody. It's over with. He's with L.A."
Durk said that the feud is "strictly on a track" and while he mentioned that he would be releasing another diss song, a member of his management later told XXL that won't be happening.
"Nah, we ain't gon' release no track. Everybody that Game mentioned that he say he know in Chicago is releasing a track. G Count already released a track. Bump J is finna get on the phone from the federal penitentiary to say he don't know Game."
Durk's team also addressed Games jabs and his decision to put himself in the middle of Durk's beef with Tyga.
"Game is trying to get a buzz off of us. We ain't gon to feed into that. We gon drop our single and our album. He might get a response on the album. Everybody gonna have to wait and see. Durk don't acknowledge Game; he's wondering where Game came from. They say Tyga paid him to get on the track. He can't handle that by himself."
Lil Durk and Tyga's beef dates back to when the rapper mentioned Tyga's girlfriend/baby mama Blac Chyna in one of his verses.
Durk said in a recent interview with XXL:
"The song with me, Chris Brown and French Montana, I had said a line in there, a line about Blac Chyna. It wasn't a diss. It was just a line, like, I want her and shit. It wasn't no diss.

"When we was in L.A. — me, Tyga and Chris Brown, when we first did the hook — Tyga came in and heard the line, [and] he felt some type of way. It was tension since then. Chris Brown had played it back to him. It was tension. [Tyga] was like, 'Man, just change it,' and I was like, 'No doubt, I'm going to change it once we get something in. I fuck with you.'

"He said he fucks with me and he's been texting me since I left L.A., like, 'I'm going to send you something. You going to send me something…' Then he stopped replying and shit, and I felt some type of way and said, 'Fuck it then, I'm not going to kiss his ass.'"
Be the first to receive breaking news alerts and more stories like this by subscribing to our mailing list.