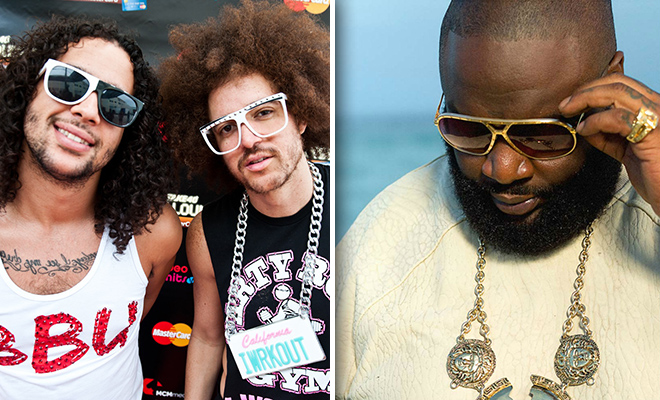 LMFAO is calling Rick Ross out big time, telling TMZ that the rapper is nothing but a former corrections officer who built a fake, bad-ass persona just so he could gain some street cred within the rap community.
The whole beef stems from Ross suing the "Party Rock Anthem" rap duo back in December for allegedly stealing lyrics from his 2006 hit "Hustlin'".
However, LMFAO is firing back at Ross' lawsuit and claim that borrowing lyrics is part of the music biz, so Rick Ross should just order some lemon pepper wings and stop whining. OK, the last part isn't true, but that's what we think he should do anyway.
Ross sued LMFAO in December … claiming the group stole his lyric, "Everyday I'm hustlin'" from his 2006 track "Hustlin'." Ross acknowledges they changed the words slightly to "Everyday I'm shufflin'" for their big hit, "Party Rock Anthem" — but he says they couldn't mask the obvious thievery.

Now LMFAO just fired back in new legal dcocs, admitting they riffed off of Ross' lyric, but claiming it's fair game — all part of the music biz.
We feel where LMFAO is coming from though. Everyone steals from everyone in the music biz these days. It's like one of those things you just overlook and let go.
Especially when you took you're name from the real Rick Ross. C'mon Rozay!
Be the first to receive breaking news alerts and more stories like this by subscribing to our mailing list.