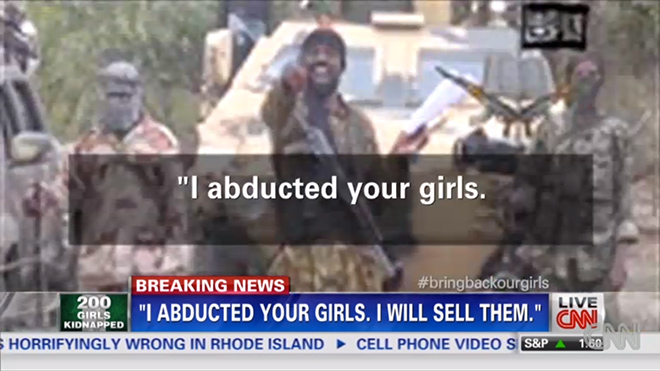 The group of Nigerian terrorists known as the Boko Haram have now claimed full responsibility for the abduction of at least 276 schoolgirls during a raid in the village of Chibok, Nigeria last month, AFP reported, citing a video they hrecently got their hands on.
Over 270 Nigerian Schoolgirls Kidnapped, Reportedly Sold Into Marriage
In a 57-minute video obtained by the news agency, Boko Haram leader Abubakar Shekau admitted to the kidnappings, saying (according to a translation from CNN):
"I abducted your girls. I will sell them in the market, by Allah. There is a market for selling humans. Allah says I should sell. He commands me to sell. I will sell women. I sell women."
More via CNN:
Boko Haram is a terrorist group receiving training from al Qaeda affiliates, according to U.S. officials. Its name means "Western education is sin." In his nearly hourlong, rambling video, Shekau repeatedly called for Western education to end.

"Girls, you should go and get married," he said.

The outrageous threat means the girls' parents' worst fears could be realized. Parents have avoided speaking to the media for fear their daughters may be singled out for reprisals.

U.S. State Department spokeswoman Marie Harf said the video "does appear legitimate."

The tape won't intimidate or deter Nigeria from efforts to save the kidnapped girls, the Nigerian government said.
"It is disheartening that someone would make such a terrible boast," Doyin Okupe, spokesman for President Goodluck Jonathan, said in an interview with CNN.

"It is to be expected of terrorists," he added. "No group can affect our resolve. We will see this through to the end. We have the commitment and capacity to get this done. No matter what this takes, we will get these girls."

On Sunday, Jonathan vowed, "Wherever these girls are, we'll get them out."
Be the first to receive breaking news alerts and more stories like this by subscribing to our mailing list.