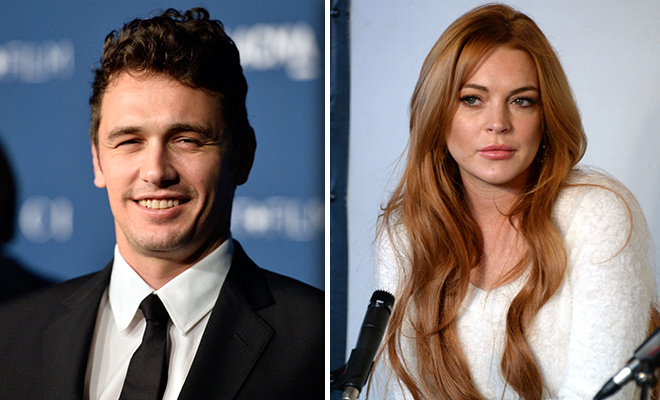 James Franco is pulling a Bill Clinton, saying 'I DID NOT HAVE SEXUAL RELATIONS WITH THAT WOMAN,' in response to his name showing up on Lindsay Lohan's infamous list of Hollywood sex partners that was leaked by In Touch Weekly earlier this year.
Lindsay's celebrity hook-up list, or what Gawker called a "celebrity f*ck list," featured names like Colin Farrell, Adam Levine, Zac Efron, Justin Timberlake, Adam Levine, and, of course, James Franco, in addition to about 30 others.
Franco, however, insisted in an interview back in March that Lindsay was lying and he has never had sex with her:
"…Lindsay herself has told lies about me with her people-she's-slept-with list! So I feel like what I said is much less than what she's said."
James once again defended his innocence in an interview with Howard Stern Wednesday (Apr 30), but this time he went a bit further, calling the actress "delusional" and painting her as a crazy stalker person, which is something we can totally see from LiLo.
"I will swear on anything you ask that I have never had sex with Lindsay Lohan," Franco promised the prying host. "I bet if you brought her in here and you asked her face, 'Did you have sex with James?' she would say 'Yes.' I think she's that…"

"Delusional?" Stern offered.

"Or doesn't remember?" Franco mused. "Alright, we maybe kissed. It was lame … I can't believe she put me on that private list! She's so delusional!"
After that one-time kiss, Franco says he saw Lindsay everywhere:
"I had this period where I'd go to clubs and she was always there. It wasn't like, 'Oh, I gotta escape Lindsay,' although she would have these periods where she'd, I don't know if she was using something or whatever, but she would just turn horrible, it was like the bad Lindsay and you just had to get away."
Franco remembers the two of them living in the same Hollywood hotel at the same time a few years later, and he said she not only was a hard partier, but she also stalked him and broke into his hotel room:
"We were at this hotel during a very dark period of her history. It seemed pretty damn clear that she liked me. I'd come home late to the hotel and she'd come find me. I knew which room she was in and I'd see through the window like, 'Oh there's another party at Lindsay's,' and she would come out to the pool area and find me.

"She even broke into my room one time because she was so at home there I guess they just gave her the key. And so 3 in the morning, I was on the couch and I open my eyes and there's Lindsay in my room at 3 am and it's like okay what do I do now. I read her a story."
Among other things, James Franco also talked about how the last time he saw Lindsay Lohan in New York she was "so rude," and he also accused her of leaking stories about them to the press.
Listen to the audio clips below for snippets from the interview:
"James Franco says that he never had sex with Lindsay Lohan, but they did make out"
"James Franco talks to Howard about finding Lindsay Lohan in his hotel"
"James Franco recalls Lindsay Lohan being rude at an NYU rehearsal"
"James Franco discusses 'The Good Lindsay' & 'The Bad Lindsay'"
Be the first to receive breaking news alerts and more stories like this by subscribing to our mailing list.