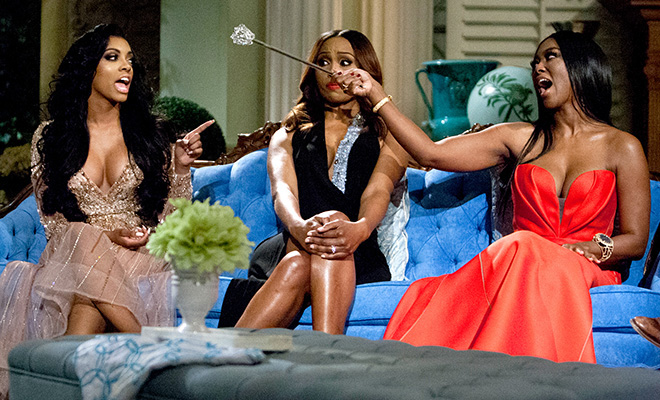 The highly anticipated first part of the three-part "Real Housewives of Atlanta" Season 6 reunion special aired on Bravo Sunday night (Apr 20) and of course the most talked about incident that happened was the big showdown between co-stars Porsha Williams and Kenya Moore.
Throughout the hour-long special, Kenya was seen taunting everyone on the show, waving around her "scepter" in people's faces, but most of her barbs were directed at Porsha.
At one point, after Porsha snatched that scepter out of Kenya's hand and tossed it on the ground, Kenya loaded up a megaphone with batteries (you really had see it… LOL) and proceeded to use it to yell at Kenya. "What I'm not going to have you do is talk over me!" she shouted.
Later, as the two were going back in forth — "YOU ARE A SLUT FORM THE NINETIES!" screamed Porsha — Kenya pulled out her megaphone again and yelled to Porsha, "You are a dumb ho!"
That was the last straw for Ms. Porsha, because she jumped up and told Kenya "I will f**k you up!"
Kenya hopped up too and responded "Get fired! Get fired!" And before you know it, Porsha grabbed Kenya by the hair and yanked her to the ground before you could yell "OH SH*T!"
Bravo's Andy Cohen and a number of security people had to rush over to break them up as Kenya howled, "She's gone! She should be fired!"
Porsha stayed on the floor had a mini-meltdown, kicking her legs and screaming "I can't believe I did that! I can't believe I did that! I've embarrassed myself! I'm so embarrassed. I can't believe that ratchet hoe made me go there!" while NeNe Leakes and Phaedra Parks tried to calm her down.
Kenya, meanwhile, stormed off the set, called 911 and later pressed charges against Porsha. "I'm not gonna sit here and be hit by someone on TV! She goes, or go," she said as she walked back to her dressing room.
Kenya also released a statement after this week's "RHOA" episode aired, describing how she was "violently attacked" (insert obligatory eyeroll here…) and how she is trained in self-defense, and if she really wanted to, she could have taken lil ol' Porsha out on "THREE MOVES," guys.
She doesn't, however, even mention how she PROVOKED Porsha to snatch her wig, but we all must remember that this IS Kenya Moore we're talking about here.
Read Kenya's full "statement" below:
During the taping of the Reunion Episode for the Real Housewives of Atlanta, I was violently attacked by Porsha Williams. The episode, which aired tonight, Sunday, April 20, 2014, was taped in front of an audience of over 50 people, which included cast, crew, guests and executives, who served as witnesses. I called 911 to report the incident. The Atlanta police conducted an independent investigation, which included viewing the raw footage of the incident. As a result, Porsha Williams was charged with battery. The authorities will decide her fate, not me.

There are many inflammatory statements made by cast members to and about each other particularly during the reunion tapings. Many have made untrue, denigrating, disparaging, and inflammatory statements against me in an attempt to provoke me, but I have never reacted in a violent way. My intellect and my brain are my most powerful weapons—not my fists. If people get so angry that they lose control and admittedly "black out" and resort to violence, those persons must be held responsible for their actions. Being a cast member on a reality show does not absolve people of their rights.

After being repeatedly attacked by an abusive boyfriend at the age of 17, if someone puts their hands on me, I will not just let it go. With that said, I sought self-defense training developed for the Israeli military. I've also been trained in weapons. I can take someone down in three moves. It took discipline for me not to respond in kind. As violent responses escalate, they can quickly result in severe injury or even death.

Being the second Black woman to be crowned Miss USA, there are little girls who look up to me. I would never want those girls, my nieces, or my future children to see me fighting anyone. That's the lesson we should all want to send, especially to young people—that no matter how angry someone makes you feel by what they say to or about you, violence is never an option. #stoptheviolence
The second part of the "Real Housewives of Atlanta" Season 6 reunion special airs next Sunday (Apr 18) at 8pm EST on Bravo.
Porsha was sent home Sunday night and won't be returning to do the rest of the reunion. Her future on the show is uncertain at this point, but it is very likely that she will be fired over this nonsense, which is a damn shame.
Be the first to receive breaking news alerts and more stories like this by subscribing to our mailing list.