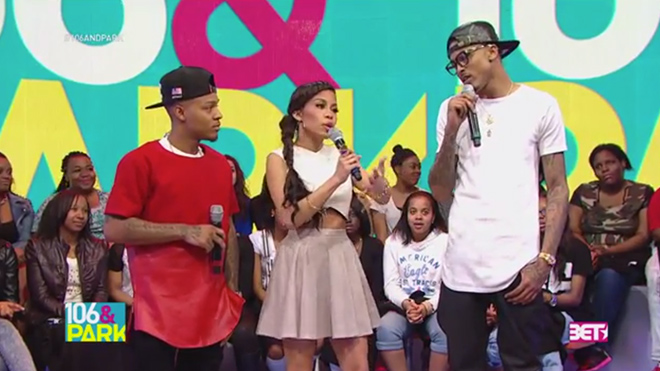 August Alsina clearly doesn't want to discuss his beef with Trey Songz.
The "I Luv This Sh*t" singer made an appearance on BET's "106 and Park" yesterday to promote his newly released album 'Testimony,' and ended up blasting co-host Keshia Chanté when she brought up the feud between the two R&B singers.
Keshia asked August, "Is there any chance that two talented brothers will bury the hatchet?" to which August angrily responded:
"So, you just gon' go against the grain and go against everything that I just … I just told y'all not to ask me that sh*t when I got up here."
We're guessing August or his PR team made it known in advance that he didn't want to answer any questions regarding his fallout with Trey, and he obviously was not happy about his wishes being honored.
Keshia, who seemed shocked by August's response, tried to explain herself and do a little damage control.
"Well, I think that the girls wanna know, and you've spoken on radio stations and blogs and you're on the show, so fans wanna know, and I'm just asking you what fans wanna know! August — fans wanna know!! That's it! And if you don't want to answer, that's fine."
Luckily … Bow Wow stepped up and got the conversation back on the topic of August's new video "Get Ya Money" featuring Fabolous.
Watch August chew Keshia out in the video clip above, and check out his new music video below:
Be the first to receive breaking news alerts and more stories like this by subscribing to our mailing list.