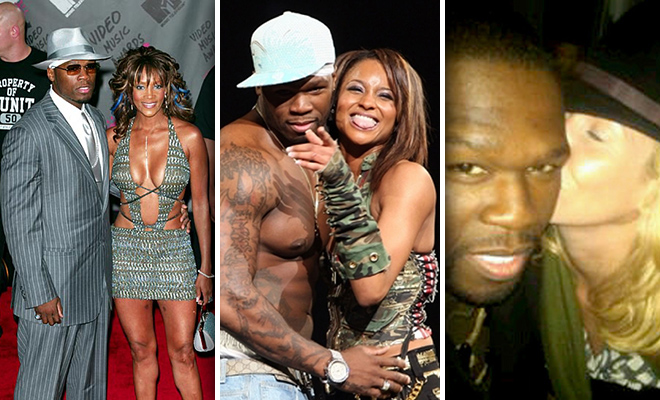 50 Cent isn't afraid to open up about his romantic past.
The business mogul/rapper spilled the beans on his previous relationships with Ciara, Chelsea Handler, and Vivica A. Fox on "The Rickey Smiley Morning Show."
Fif also gave his opinion on why female icons like Rihanna and Erykah Badu leave dudes sick after breaking up with them, and he said he could NEVER date a woman like that.
Read what all 50 had to say below:
On if he's congratulated Ciara on her pregnancy, expecting a baby with Future:
"I haven't. I haven't. I spoke to her grandmother last night. She's a sweetheart."

On if he's still friends with Ciara and Chelsea Handler:
"Chelsea was cool. I may actually do a show [Chelsea Lately] before it's over." When asked if he was still friends with Chelsea, "Yea Yea…And me and Ciara are still friends. It's not that I don't appreciate the time that we spent during that period. You usually find out about my relationships after they've finished."

On his public relationship with Vivica Fox:
"That was the only one. That was an accident. That sh*t happened so fast. I was so green, I was like the front lawn. You know how women say she need closure and she need to have that conversation or whatever it is…that may spin me right back into the actual relationship.

On how he broke up with Vivica:
"You know what happens…the touring. Our lives would be moving us into different directions at the same time so it's enough space for us to actually still be in to each other. But if you're away from each other and it's not right, she'll start getting off into things while you're getting off into things at the same time. I like to float away."

On Rihanna and Erykah Badu leaving dudes sick after they break up with them:
"Rihanna got a thing with her where she leaves the guys looking like they was the girls. They be hurt like what happened? The only person iller than her is Erykah Badu." [Ha!]

50 had to pick who he would smash, marry or kill between Rihanna, Miley Cyrus and Chelsea Handler:
"I'd smash Rihanna because I didn't do it. I'd kill Chelsea and try something different."  He was asked if he would actually marry Miley Cyrus he responded, "I'm trying something different. "
h/t: YBF
Be the first to receive breaking news alerts and more stories like this by subscribing to our mailing list.