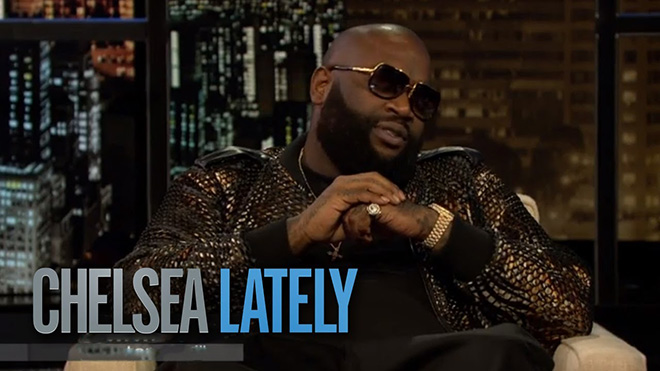 Chelsea Handler invited rapper Rick Ross to her show "Chelsea Lately" last week, and after introducing the bawse as "big, black and sexy," she proceeded to dry-hump him right then and there on the stage as he was making his way to his seat for their interview.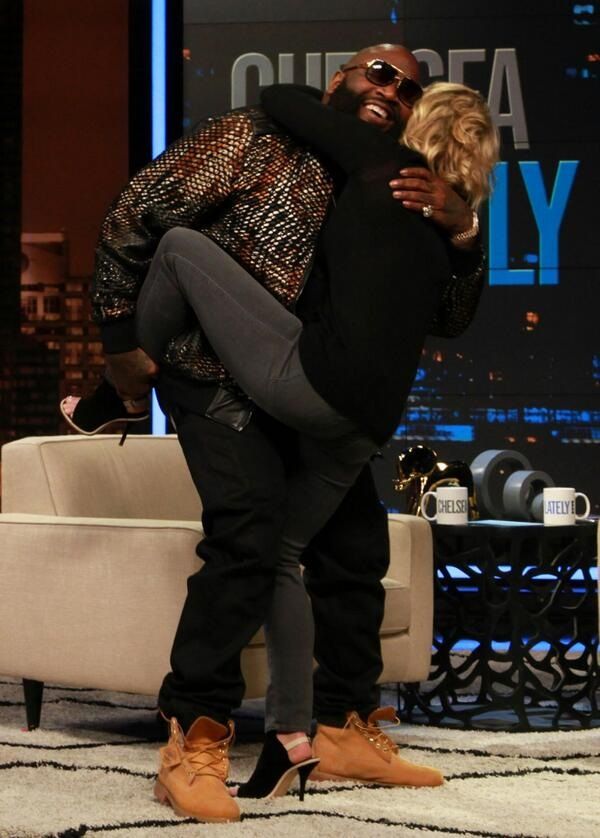 Was she trying to make 50 Cent jealous? Who knows, but she did bring the rapper up in reference to their past beef, to which Ross responded: "You know I'm really through talking about dog. When I look up at the scoreboard, we are winning big!"
Oop!
The "Devil Is A Lie" rapper also talked about his new album 'Mastermind,' and how he has an assistant who rolls his weed for him and even invited Handler to smoke with him.
"I'll smoke a blunt with you," Chelsea told him. "I'll do any drug you give me. I don't give a f**k"
From there the conversation went to Rick Ross owning a bunch of Wingstop restaurants, and while he was oddly secretive about the specific number he currently he owns (he said he has "more than one"), he did reveal that he is currently in negotiation with the company to open at least 25 new Wingstop franchies by the end of this year.
Ross and Handler then bonded over their mutal love of chicken wings.
"I love wings … I LOVE IT. I LOVE WINGS," Ross said, in case you didn't already know how much he loves wings.
WATCH THE INTERVIEW ABOVE!
Be the first to receive breaking news alerts and more stories like this by subscribing to our mailing list.