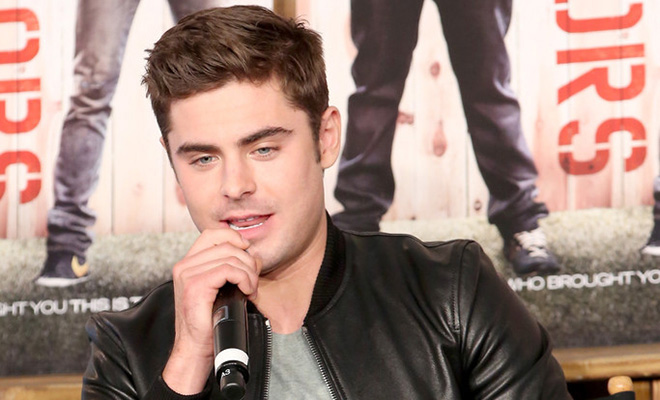 Zac Efron is pulling a move straight out of the Justin Bieber play book … by reportedly parting ways with anyone who confronts him about his drug addiction.
Just after midnight last Sunday (Mar 23), Zac and his bodyguard mysteriously ended up in a bad area of downtown Los Angeles known as "Skid Row," where the former Disney star reportedly got punched in the mouth by a "sketchy" homeless man, according to TMZ.
L.A. law enforcement told TMZ that some cops on patrol witnessed Zac and his bodyguard "in a full-blown melee with at least three other guys," and after breaking up the fight, Zac was questioned, and he told them this unbelievable story:
He told them they had run out of gas and were sitting in the car. Zac said while waiting for a tow truck they threw a bottle out the window — he never said what was in the bottle — and it smashed on the pavement near a group of transients.

Zac said the transients confronted him and the bodyguard because they believed the pair hurled the bottle at them. Zac says 2 of the transients attacked the bodyguard and when Zac got out of the car to help, he got cold cocked in the mouth. Zac said, "It was the hardest I've ever been hit in my life."
The cops viewed the incident as "mutual combat" (this law exists?), so no one was arrested, however, one source said Zac was "obviously intoxicated," so there's that.
The bodyguard later reached out to TMZ and described the actor as a "hero who risked his own life" to save his bodyguard's, offering a bit more insight into what actually happened (or didn't):
We spoke to the "bodyguard" who says he and Zac were "cruising" around downtown L.A. Sunday at 12:30 AM, when they suddenly ran out of gas and rolled to a stop at the bottom of a downtown L.A. off-ramp.

Later in our conversation, the man — we agreed not to use his name — said it wasn't so much "cruising" as it was going to a restaurant in Little Tokyo in the downtown area.

TMZ broke the story … Zac told cops they had run out of gas and for some reason threw a bottle out of the car which shattered and angered some nearby transients. Zac claimed the transients attacked the man and as Zac went to help him a transient viciously struck Zac in the face.

He tells us … the transients actually went after him with "a spear" — like a shank — and stabbed him in the face, stomach and chest. He says Zac then got out of the car and swung a vodka bottle at the transients to fend off the attack. He says Zac actually thwarted the attack and saved his life.

So the man says the bottle Zac claimed to have thrown out the window wasn't really thrown at all. He says Zac used it as a weapon during the attack.
Now, here's the thing: no one (the police, Zac's friends, TMZ, THE WORLD) is believing that story from Zac and his so-called "bodyguard" about them cruising around town looking for "sushi" at a half-hour past midnight unless, in this case, "sushi" is a euphemism for "drugs."
As one friend put it, "Zac's a loner. He goes out rarely and the idea of him driving for miles to go to some sushi restaurant in downtown L.A. after midnight is preposterous."

Several of Zac's friends tell us the so-called bodyguard is not a bodyguard at all. We've confirmed he's a convicted drug dealer who has been spending a lot of time with Zac recently … despite warnings from friends.

[via]
Sources are now telling TMZ that Zac Efron doesn't believe he has any problems with drugs, and not only that, but his friends are reportedly scared to bring up the matter because they know their words will fall on death ears, and they'll be instantly cut off.
Zac's friends also believe he's on a path of destruction and could be the next Cory Monteith if he doesn't get the help they feel he needs.
This is most certainly a sad situation for everyone involved and we're hoping Zac gets the help he needs before it's too late…
Be the first to receive breaking news alerts and more stories like this by subscribing to our mailing list.