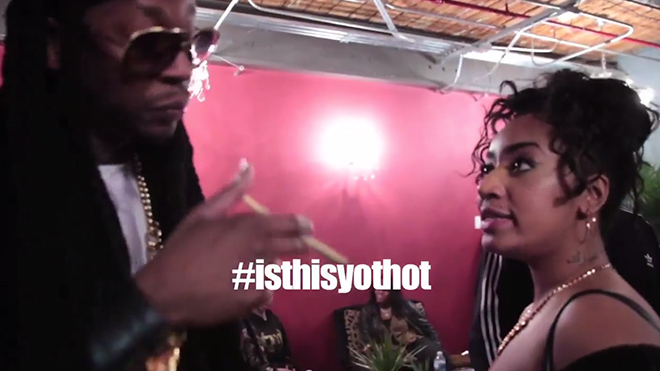 Last week, 2 Chainz posted a video on YouTube, documenting a thirsty groupie's semi-successful attempt to sneak backstage after one of his shows and meet a member of his entourage named Cap 1.
At the beginning of the video, 2 Chainz poses the question to his friend, "Is this yo thot?" referring to the h2o-deficient woman waiting for somebody, ANYBODY, to let her backstage. (For the uninitiated, a "thot" is an acronym for "that hoe over there.")
It's not exactly clear how the woman, who identified herself as "Tina," managed to get backstage and be a "part of the mix" (which is the first step in a groupie's multi-step plan to secure herself a baller), but she said she was there for Cap 1 because she follows him on Instagram, or something.
When 2 Chainz notices her presence (judging from the video, it seems as though she had tried to sneak backstage earlier in the evening, but failed), he asks her who she's there for, and when she tells him Cap 1 (who she was standing beside and didn't even realize, smh), that's when everyone in the room starts laughing and basically clowning the hell out of her.
Things only get that much worse for "Tina" (who, after finding out this was "going on a blog for real," proudly spelled out her Instagram handle) when she tries to drum up some small talk with 2 Chainz as she is making her way out, telling him how good he did with his show, it's just too bad she missed August Al-SELENA's.
2 Chainz asks her to repeat the name, and as expected, she f**ks it up again, pronouncing what should be "August Alsina" (the R&B singer who has beef with Rich Homie Quan & Trey Songz) as "August Al-Selena," which invokes laughter amongst the rapper's entourage and even causes a concerned handler to tell her "baby listen to me, just walk out that door."
Tina heeded to the bodyguard's suggestion, and left the room without putting up a fight, but it's rumored that she has lawyered up and intends to sue 2 Chainz on claims that he ruined her image by releasing the video online (which was also posted on WorldStarHipHop and has over 1.3 million views) and calling her a "thot."
According to a story on Bossip, Tina plans on suing 2 Chainz for "millions," however after doing a little research, we found out that they're getting their information from a fake/parody account.
After 2 Chainz's "#IsThisYoThot?"video went viral, folks flooded Tina's Instagram page with mostly negative/hurtful comments, which made many people believe that she had switched over to a new account.
"For the record I'm not a thot, I reset my account because I had family on it. Tauheed Epps aka 2 chainz you will definitely be hearing from my lawyer," reads the bio of her "new" Instagram page.
But what's strange is that the bio on her "original" page says "LuvTinaa is a FRAUD !!!"
Even weirder is the fact that the "original" page hasn't been updated since March 24th, and the "new" page's first update starts on March 24th with the same exact picture. So who knows what's real and what's fake?
See some of the "new" page's latest updates here: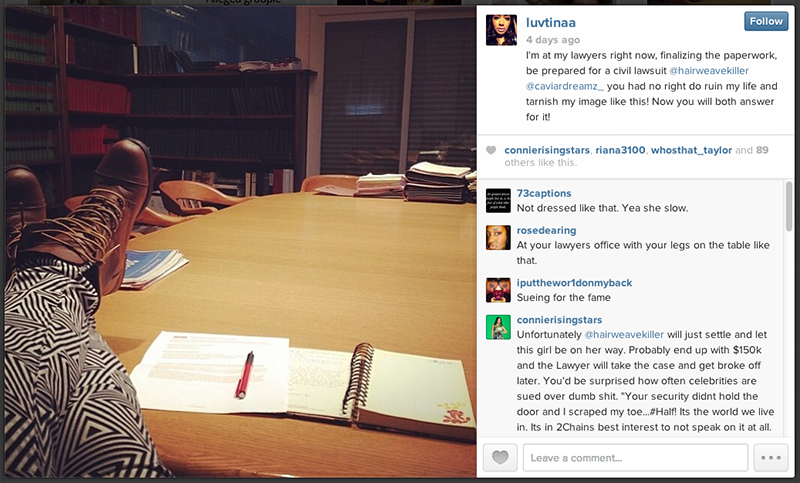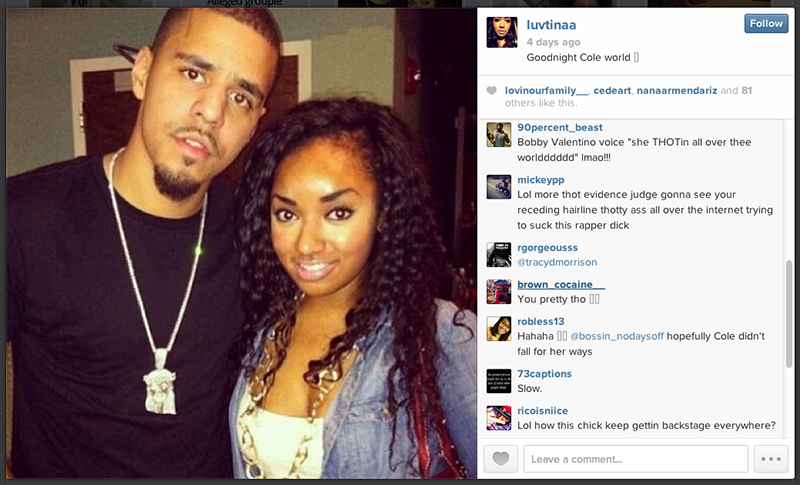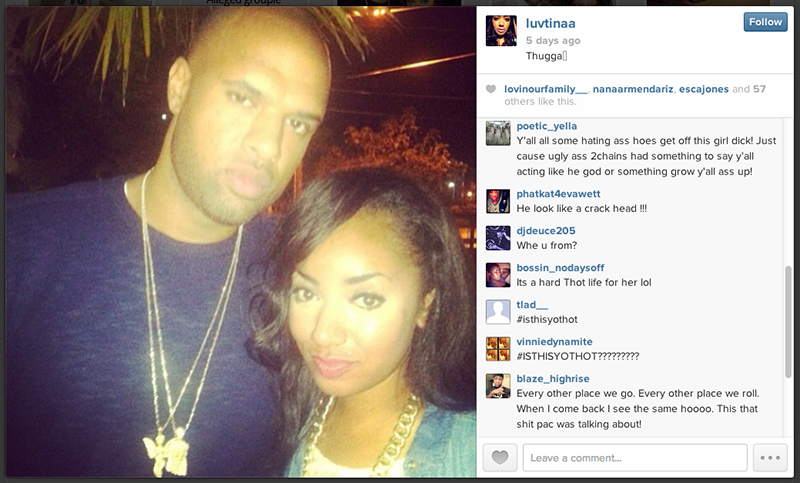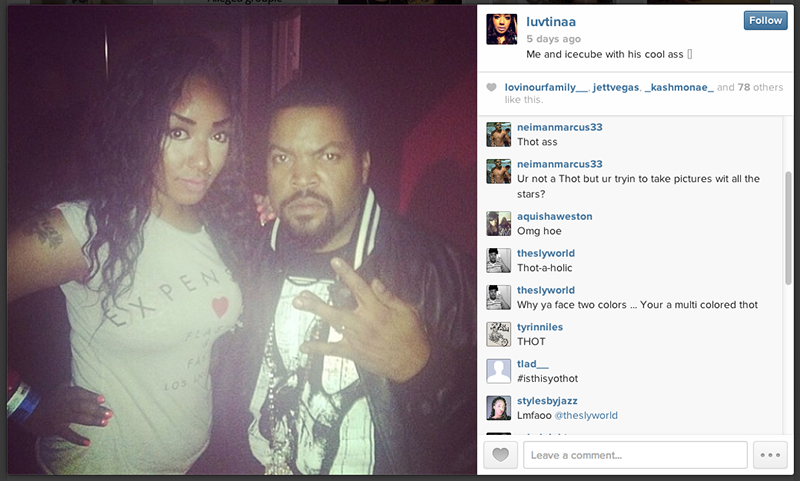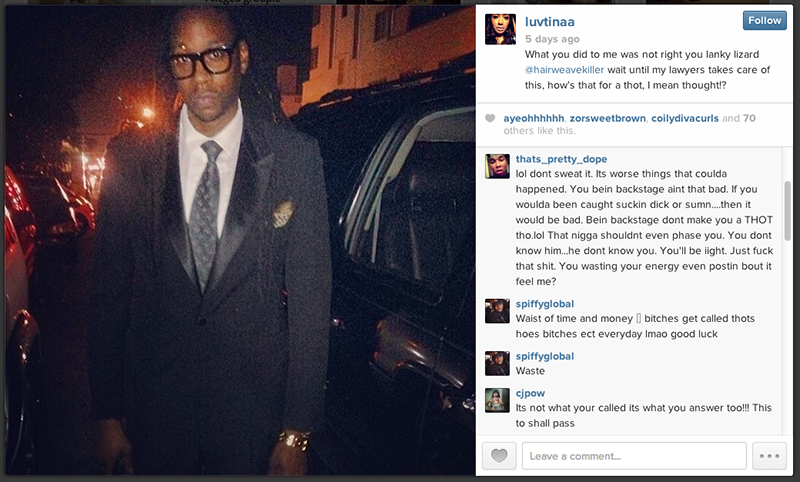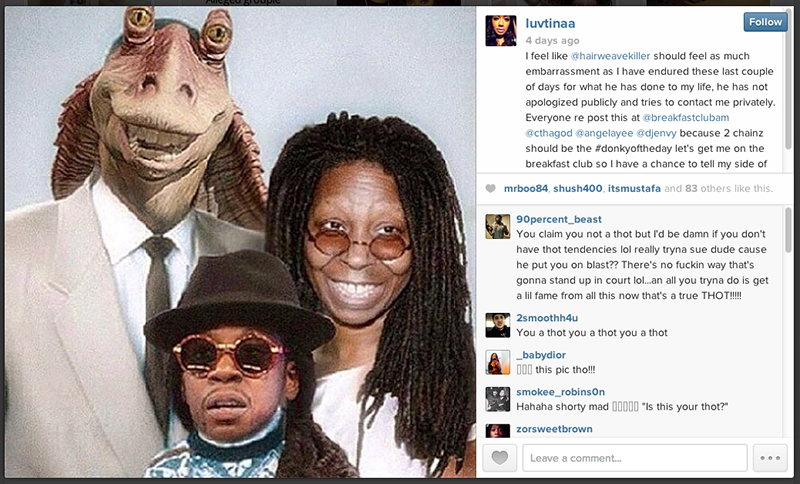 There have also been talks of a $50-$100K "settlement offer" from 2 Chainz, but we highly doubt he would even entertain this mess, just as much as we doubt the validity of this so-called "lawsuit."
For what it's worth, Twitter user @iLuvTinaa has spent the past week trying to clear her name, and letting everyone know that the so-called "new" Instagram page is actually a fake one:
"LUVTINAA" ON IG IS A FRAUD… MY ONLY IG IS "iLUVTINAA".

— Love. (@iLuvTinaa) March 27, 2014
ALL THESE FAKE PAGES AND DIS PAGES GOTTA STOP. I'LL RESPOND TO THE BULLSHIT WHEN I'M READY..

— Love. (@iLuvTinaa) March 27, 2014
I appreciate the Love from my supporters. Don't worry, you will be hearing my side of the story…

— Love. (@iLuvTinaa) March 27, 2014
I was unaware of what was exactly said on the IG post I let someone post from my page. My side is the TRUE story, don't believe the LIES.

— Love. (@iLuvTinaa) March 29, 2014
If you're hater. FUCK YOU. obviously wasn't NOTHING going on BACK there.. but yall so BLIND & DELUSIONAL yall start making up shit.

— Love. (@iLuvTinaa) March 29, 2014
I never been a groupie in my whole life. if you think other wise… Then YOU would be back there fuckin&sucking cause u THINK like a groupie

— Love. (@iLuvTinaa) March 29, 2014
& bitch ass niggas following this stupid #izThatYoThot trend .. Kill yourself! I wasn't actng like a hoe being a ho, or looking like a hoe.

— Love. (@iLuvTinaa) March 29, 2014
So NO!!!!!!!! I'm NOT YO THOT. Nor do I get down like that, eveeeeeeeeeeer. yall the same 1's my fuckin inbox thinkin yall got a chance, NO!

— Love. (@iLuvTinaa) March 29, 2014
Question 2 all the dick-riders out there? :::: How much do you get PAID for riding another niggas Dick? Hmmm… huh? hahahaa.. Get off.

— Love. (@iLuvTinaa) March 29, 2014
BITCH I BEEN CELIBATE. I WANT MARRAIGE & SHIT…. FUCK THAT THOT SHIT YALL TRYNA LABEL ME AS. ION EVEN FUCK THEM NIGGAS N THM PIX WIT ME…

— Love. (@iLuvTinaa) March 29, 2014
WHO MAKES UP SHIT ABOUT SOMEONE ELSE && THEN ACTUALLY BELIEVES THAT SHIT?? SIT YO FANTASY HARRY POTTER MAKE BELIEVE ASS DOWN..

— Love. (@iLuvTinaa) March 29, 2014
So let me get this right? b/c this whole #izThatYoThot 2 chainz started i am being accused of sleeping w/ every celeb and guy i took pix w?

— Love. (@iLuvTinaa) March 30, 2014
If you believe or think im a thot/hoe or a groupie… obviously you dont know me at all, so dont act like you knw me when u see me. bitch.

— Love. (@iLuvTinaa) March 30, 2014
She also posted this video (above) along with the following description:
iLuvTinaa is the only me anyone else is not me. & I Am a QUEEN, Not no fuckin' THOT & The purpose for this video is to let the bloggers who are quoting this "LuvTinaa" person to stop, she's NOT me, don't take no interviews from her, I haven't done any interviews with anyone EVER. Nor are quotes from these blogs from me….. I haven't talked to any bloggers about what really happened….. My email is posted on my IG "iLuvTinaa" and that is only IG I have.
… spoken like a true THOT!
Be the first to receive breaking news alerts and more stories like this by subscribing to our mailing list.