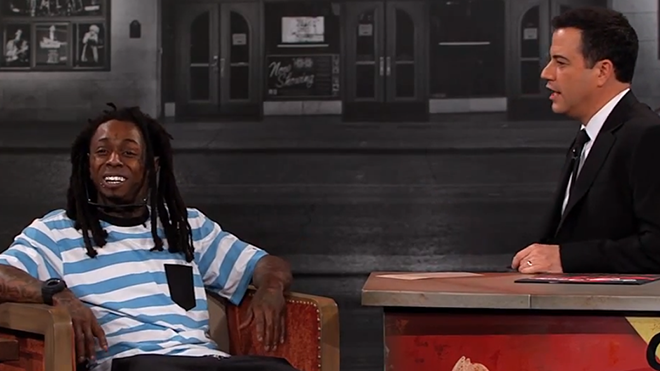 In addition to taking part in the festivities at SXSW week in Austin, TX, Lil Wayne and his raggedy-looking dreads made a guest appearance on the "Jimmy Kimmel Live!" show, who hosted his show at the annual festival last week.
In his sit-down with Jimmy Kimmel, Weezy spoke on once being shot at by a female fan and even shooting himself when he was 14 years old.
"It was after a show and she was just a very persistent fan. We didn't know what she actually wanted," Weezy told Kimmel. "Once the gunshots went off, the bus driver started swerving. We weren't paying them no mind. We was all hype, and we was dancin'. We were more upset at him 'cause we was like, 'You gon' kill us.'"
When he shot himself, Wayne recalls accidentally pulling the trigger while watching Notorious B.I.G.'s "Big Poppa" video and having the police come to his rescue.
"My ass was tryin' to be hard, lookin' in the mirror, trippin' and it went off," he said. "I gathered myself and I slid on my own blood 'cause we had wooden floors, thank God. I used the floor and I slid on my blood and I kicked the door and they heard me kick the door and they opened the door."
WATCH THE INTERVIEW ABOVE