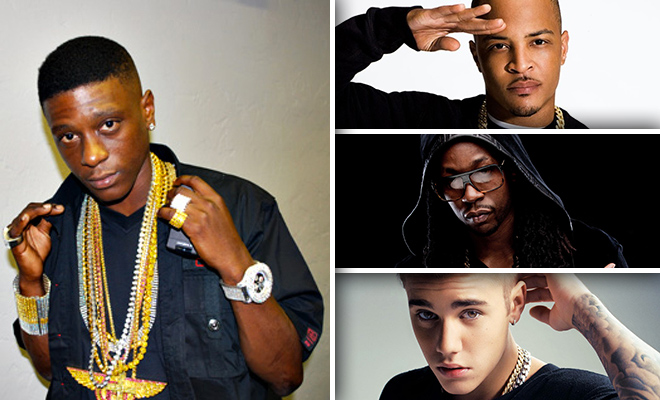 Lil Boosie has been in the studio working like a slave ever since being sprung from prison early this month.
During an interview with Cleveland, Ohio radio station Z107.9, Boosie revealed that he is 35 percent done with his upcoming album, which he says will include features from T.I., 2 Chainz, and possibly even Justin Bieber too!
"I've been in the studio every night, all night," Boosie said. "Except first night I came home. So, man, I'm 'bout 35 percent finished with my album already. And we working, man. Every night, every day. From five in the evening to five in the morning. That's where I'm at…I sent T.I. a record last night. T.I. got on it. I sent 2 Chainz a record last night. 2 Chainz got on it…We gon' put Justin Bieber on the album."
Boosie also gave some wise words of advice to the youth, and warned them to stay in school and out of the streets.
"Try to stay in school, man. Cause these streets—These streets, you going to prison," he said. "That's just a fact. You know? I don't care how good you get in doing what you doing, if it's part of the streets you going to prison. I want 'em to chase they dreams also. So, I just want them to stay positive and stay around positive people…I hope to tell them to learn from they mistakes when that do happen. Cause when you do that it make you a better person."
Listen to the interview below:
Just by listening to this interview, it looks like Boosie might be headed on the right path after all!
Be the first to receive breaking news alerts and more stories like this by subscribing to our mailing list.