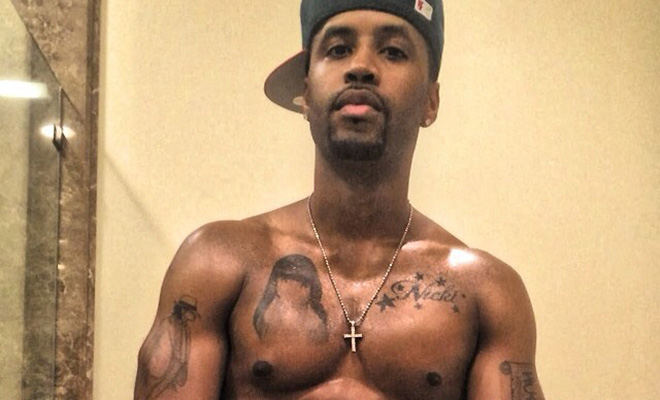 While we're still trying to figure out who the hell Safaree Samuels aka "Scaff Beezy" is to Nicki Minaj (Is he her boyfriend? Or is he just her assistant and close friend/confidante who might have sex with her, or roll her blunts, when she needs him to? WHAT IS IT???) … the aspiring rapper has gone and added more tattoos of Nicki's face to his body.
Nicki Minaj's "Boyfriend" SB Got Her Face Tattooed On His Arm
Last December we told you about him getting a big ass tattoo of her face on his arm, and now, just a few short months later, he's added even more Nicki Minaj face tattoos his his growing collection!
Samuels, who is the CEO of Nicki's Pink Friday Productions, got his boss' face tattooed to one chest, and her face on the other, and he showed off his new ink on Instagram.
Surprisingly, most of the comments were positive, with one user commenting, "That's soo sexy how you have Nicki tatted on you. You guys should get married." Another wrote, "Dang he does have Nicki tatted on him! I think thats f**king cute as hell."
Clearly, the guy is in love, but is it really "cute as hell" to have someone's name and/or face tattooed to your body (who isn't your child, parent, sibling, grandparent, etc.), and they don't have ONE tattoo of yours on theirs? Sound off in the comments below!
Be the first to receive breaking news alerts and more stories like this by subscribing to our mailing list.