At the surface, Katy Perry's "Dark Horse" video looks fun and colorful, but if you look beyond that, you can't help but notice the blatant, in-your-face Illuminati references and symbols.
But the Egyptian-themed video, which features rapper Juicy J, also has a scene that shows a man wearing a bunch of necklaces melting into a pile of sand, and observers noticed that one of those necklaces was a pendant with "Allah" (the arabic word for God) spelled out, which also burns up with him.
That particular scene — which comes in at around the 1:15 mark — was enough to piss Muslims off, and one follower of the religion of Islam started an online petition on Change.org, calling for YouTube to remove the "blasphemous" video from their website altogether:
The video is considered as highly controversial to its viewers as a result of its portrayal of blasphemy.

At 01:15 into the video Dark Horse; a man is shown being burned, whilst wearing a pendant (also burned) forming the word 'Allah', which is the arabic word for God.

Such goes to show, that blasphemy is clearly conveyed in the video, since Katy Perry (who appears to be representing an opposition of God) engulfs the believer and the word God in flames.

This is the reason for lodging the petition so that people from different walks of life, different religions and from different parts of the world, agree that the video promotes blasphemy, using the name of God in an irrelevant and distasteful manner would be considered inappropriate by any religion

We hope that the video itself depicting such images is removed. Such acts are not condoned nor tolerated, we hope YouTube will remove the video
Since being published online, according to MTV, the petition had received about 65,000 signatures, and YouTube has since edited the footage, removing "Allah" from the melted man's necklace.
So everybody wins! Katy gets to keep her video online (which so far has been viewed over 58 million times since its Feb. 20th debut), and it's no longer offensive to a group of people.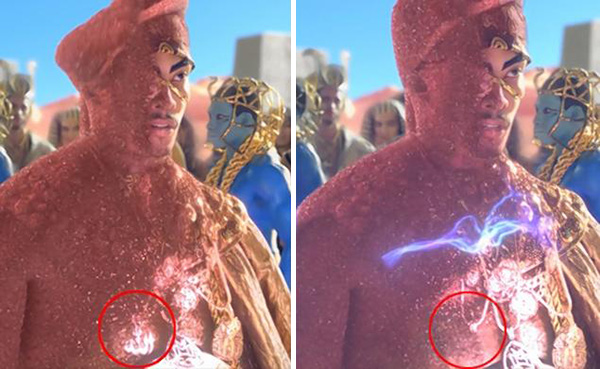 Reps for Perry have yet to comment on the change, so it's unclear whether the singer's label or YouTube cleaned up the image, but the petitioner — 22-year-old Shazad Iqbal from the United Kingdom — is certainly claiming it as a victory.
"Guys I'm thrilled to let you all know the name of Allah has been removed from the 'Dark Horse' video," Iqbal wrote on his Change.org petition. "We couldn't have done it without everyone's support so I thank each and every one of you deeply, our voices have been heard! God bless you all."
Despite the controversy surrounding the video, Katy Perry & Juicy J's "Dark Horse," which is a single from 'Prism,' Perry's fourth studio album, has spent four weeks at No. 1 on the Billboard Hot 100.
WATCH THE VIDEO (SANS THE OFFENSIVE IMAGE, OBVIOUSLY) UP TOP!
Be the first to receive breaking news alerts and more stories like this by subscribing to our mailing list.