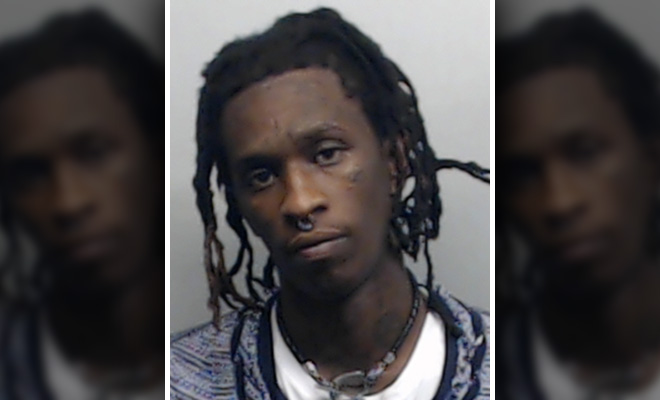 Young Thug — who could very well be Hip-Hop's first openly gay/bisexual rapper — posed for his first mugshot (as a famous rapper, not in life, we're sure) earlier this week after the "Stoner" rapper was arrested Tuesday afternoon (Feb 25) in Atlanta for reckless driving
According to TMZ, Thug, whose real name is Jeffrey Williams, was pulled over after cops spotted him "driving in a circular or zig-zag motion." He was also popped for driving without a seat belt.
And to make matters worse … cops found an outstanding warrant for drug possession after running Williams' license.
Complex broke the news first, citing an "anonymous source" close to Thug, and they found out through the Fulton County, GA Inmate Records website that in addition to Reckless Driving, Young Thug was also charged with "Possession Of A Schedule IV Controlled Substance, Driving Without Seat Belt, Reckless Conduct, Driving In Circular Or Zig-Zag Course 'Laying Drags."
According to Fulton County jail records, Thug was released on bond on Thursday (Feb 27).
Also, law enforcement sources revealed to TMZ that the rapper, who is also well-known for his latest hit "Danny Glover," threw a handgun from his car window as police were trying to pull him over, and when they searched the vehicle, they also found Xanax pills.
Well damn! Dude's career just popped off like … yesterday and he's already getting locked up. Let's get it together Thugga Thugga!
Be the first to receive breaking news alerts and more stories like this by subscribing to our mailing list.