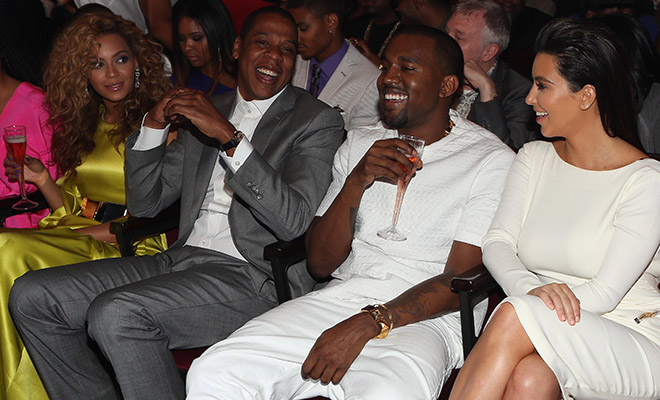 Kanye West has hopped on the remix to Beyoncé & Jay Z's hit single "Drunk in Love" and the controversial rapper is getting a lot of attention for his raunchy lyrics, which many people believe to be (at least partly) about his fiancée Kim Kardashian.
The track was released on Friday (Feb 14), which just so happened to be Valentine's Day, and in it, 'Ye gives you the blueprint to what it's like to have a successful sex session with him.
Take a look at the (HIGHLY NSFW) lyrics from his verse below (emphasis ours):
Woo! You will never need another lover
Woo! Cause you a milf and I'm a motherfucker
Told you give the drummer some, now the drummer cummin'
I'm pa rum pa pum pumin' all on your stomach
Yeah, tonight I see some super freaky hoes
That could go from bein' stripper to a super C.E.O
I don't know the way you do it, but you do it to me though
And you always told your girlfriends you need you a TV show
Now you got your own money, you don't need nobody else
But far as hell with all that ass, I think you gon' need some help
Let me remind you, you got a, you got a great future behind you
You gotta tell me what we tryna do
I ain't no pastor, don't do missionary
I know good pussy when I see it, I'm a visionary
I know them haters talkin', always had us very weary
Yup! On the 35th of Nevuary
Yup! You love the way I'm turnt
After all the money you earned, still show daddy what you learned
That cowgirl, you reverse that cowgirl
You reverse, you reverse, and I impregnated your mouth, girl, ooooh
That's when I knew you could be my spouse, girl
We fuckin' all over the house, girl, we just messed up a brand new couch, girl
You ain't on site then you on Skype
I put you on that bike, you bound, girl
We too wild, won't turn down
We drunk in love, fuck them
LISTEN TO BEYONCÉ & JAY Z'S "DRUNK IN LOVE REMIX" (FEATURING KANYE WEST) RIGHT HERE:
Be the first to receive breaking news alerts and more stories like this by subscribing to our mailing list.