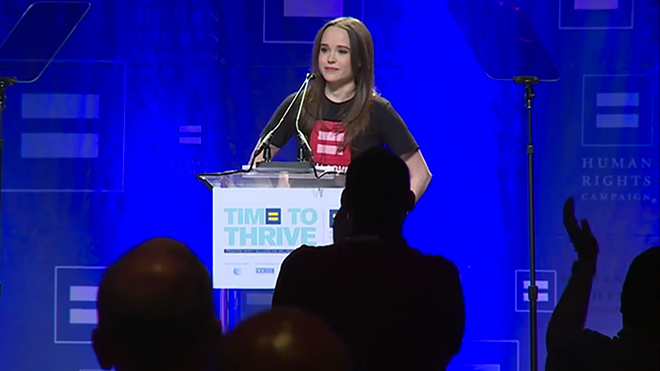 Tired of "hiding" and "lying by omission," actress Ellen Page publicly came out as a gay woman while giving a speech Friday at Time to THRIVE, a national LGBT conference for teens held annually in Las Vegas.
"I'm here today because I am gay," 26-year-old Page announced at the beginning of a moving and deeply personal speech she delivered at Bally's Hotel and Casino in Vegas, according to The Hollywood Reporter, who first broke the the news.
"And because maybe I can make a difference, to help others have an easier and more hopeful time. Regardless, for me, I feel a personal obligation and a social responsibility.

"I am tired of hiding and I am tired of lying by omission," Page proudly and defiantly declared. "I suffered for years because I was scared to be out. My spirit suffered, my mental health suffered and my relationships suffered. And I'm standing here today, with all of you, on the other side of all that pain."

Page first shared the inner turmoil she's felt since she was thrust into the Hollywood limelight following the blockbuster success of 2007's Juno.

"It's weird because here I am, an actress, representing — at least in some sense — an industry that places crushing standards on all of us," Page said. "Not just young people, but everyone. Standards of beauty, of a good life, of success — standards that, I hate to admit, have affected me.

"You have ideas planted in your head, thoughts you never had before that tell you how you have to act, how you have to dress and who you have to be. I have been trying to push back, to be authentic, to follow my heart, but it can be hard," she admitted.

Page, who paused frequently to collect herself as her emotions swelled, added that reading about herself in the tabloids can be a trying ordeal.

She mentioned one article, accompanied by a paparazzi photo of her wearing sweatpants on the way to the gym, that asked, "Why does this petite beauty insist upon dressing like a massive man?" (The answer: "Because I like to be comfortable," a line that drew laughter and applause.)

That kind of gender stereotyping serves "no one," Page said. She then went on to single out examples of "courage all around us," naming "football hero Michael Sam," Orange Is the New Black star Laverne Cox and musicians Tegan and Sara Quin for their contributions to furthering LGBT visibility and pride.

A tearful Page concluded her eight-minute speech by wishing the audience a happy Valentine's Day, sweetly adding, "I love you." The remarks were met with a rousing standing ovation.
WATCH ELLEN PAGE'S FULL 8-MINUTE SPEECH ABOVE (THE COMING OUT IS AROUND THE 5:20 MARK)
Be the first to receive breaking news alerts and more stories like this by subscribing to our mailing list.