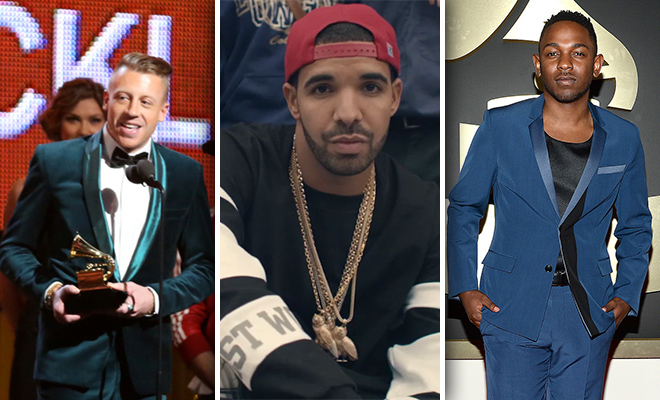 Following the 2014 Grammy Awards, which were held at Los Angeles' Staples Center last month, many felt as though rap newcomer Kendrick Lamar was robbed of the "Best Rap Album" awar
Macklemore (who, along with his rap partner Ryan Lewis, won the category, beating out Kendrick, Drake, Kanye West, and Jay Z) posted a text message on Instagram he sent to Kendrick, telling him that he was "robbed" and deserved the award instead.
"You got robbed. I wanted you to win. You should have. It's weird and sucks that I robbed you. I was gonna say that during the speech. Then the music started playing during my speech, and I froze. Anyway, you know what it is. Congrats on this year and your music. Appreciate you as an artist and as a friend. Much love."
Some may have found Macklemore's text honorable and the right thing to do, however, others, including Drake, found it distasteful.
In a recent interview with Rolling Stone, Drizzy called Macklemore's text to Kendrick "wack as f*ck".
"That shit was wack as fuck. I was like, 'You won. Why are you posting your text message? Just chill. Take your W, and if you feel you didn't deserve it, go get better — make better music. It felt cheap. It didn't feel genuine. Why do that? Why feel guilt? You think those guys would pay homage to you if they won?"
Drake went on to add:
"This is how the world works: He made a brand of music that appealed to more people than me, Hov, Kanye and Kendrick. Whether people wanna say it's racial, or whether it's just the fact that he tapped into something we can't tap into. That's just how the cards fall. Own your shit."
Drizzy also felt like Kendrick wasn't the only one snubbed at the Grammy's:
"To name just Kendrick? That shit made me feel funny. No, in that case, you robbed everybody. We all need text messages!"
Drake clearly still has hard feelings toward Kendrick … and he obviously isn't the biggest Macklemore fan either.
Be the first to receive breaking news alerts and more stories like this by subscribing to our mailing list.