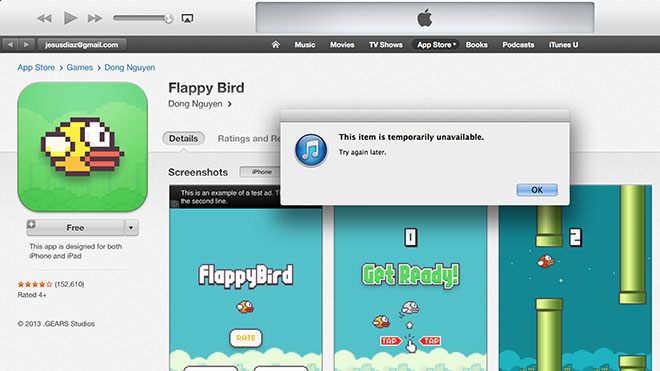 First of all, Dong Nguyen — the creator of the immensely popular app called "Flappy Bird" that destroys lives and productivity alike — DID NOT COMMIT SUICIDE. He's still alive and well, despite claims from one of those ridiculous online hoaxes that vent viral over the weekend.
What a sad day for Flappy Bird developer. Rest in peace. pic.twitter.com/xY9DpKukby

— Paul Kanan (@Paul_kanan) February 10, 2014
THIS DID NOT HAPPEN, GUYS. That fake azz story originates from this site called "Huzlers.com," which, according to their bio is a "combination of real shocking news and satire news to keep its visitors in a state of disbelief." Real classy stuff there.
But what REALLY DID HAPPEN was Dong Nguyen decided that being the creator of a wildly popular app was [in the words of Gucci Mane] "scressful, bruh."
Nguyen first made the announcement Friday on Twitter, with the following cryptic tweets promising that 22 hours from the timestamp of his messages he would be removing the app from the Internet all together (across ALL mobile devices, including iPhone and Android).
I am sorry 'Flappy Bird' users, 22 hours from now, I will take 'Flappy Bird' down. I cannot take this anymore.

— Dong Nguyen (@dongatory) February 8, 2014
It is not anything related to legal issues. I just cannot keep it anymore.

— Dong Nguyen (@dongatory) February 8, 2014
But why on earth with someone with good sense delete an app reportedly generating AT LEAST $50,000 A DAY in revenue. That's $350K a WEEK. Over $1 MILLION PER MONTH. WTF?
Well, apparently, Nguyen, who is believed to live in Vietnam, says being the creator of an overnight sensation ruined his "simple life" and he wants no part in something taking him away from a life of simplicity.
I can call 'Flappy Bird' is a success of mine. But it also ruins my simple life. So now I hate it.

— Dong Nguyen (@dongatory) February 8, 2014
And just as promised, the app was gone from store, just like that. Fortunately, if you downloaded before it was deleted, you can play on for as long as you want.
Until that day you get so pissed off that you STILL can't get past the third tube, even after several months and delete it. Then it will be gone, gone forever.
Then you'll hate yourself and try to figure out a way get it back (right now they're selling smartphones on eBay for up to $90K-$100K pre-loaded with the game, though who knows how long that will last), but you'll realize that you can't get it back. IT'S GONE FOREVER.
Then you'll go into a deep depression until you realize that it was JUST … A … F*CKING GAME, and you had a life before, and you will (hopefully certainly) live on without it. OKAY?
H/T: Gizmodo
Be the first to receive breaking news alerts and more stories like this by subscribing to our mailing list.